Air France-KLM Group has secured a vital agreement with pilots which will enable the budget operation Transavia to conduct domestic services in France.
French pilot union SNPL has strongly backed the agreement, with members voting over 90% in favour after a turnout of nearly 83%.
Air France-KLM says the vote illustrates the "responsibility" that cockpit crews are taking in the "crucial juncture" as the company plots a recovery from the air transport downturn by overhauling its notoriously loss-making French domestic network.
French domestic flights have faced strong competition from budget rivals as well as the high-speed rail network, and Air France wants to capitalise on a deal, signed last year, permitting the expansion of Transavia's French fleet beyond 40 aircraft.
Transavia already operates from bases at Paris Orly, Lyon, Nantes and Montpellier on over 100 routes within Europe and the Mediterranean region.
Air France will reinforce the Orly base with Transavia domestic services, while holding on to specific routes – including Toulouse, Nice, Marseille and Corsica – with its 'La Navette' shuttle operation.
But its plan also involves surrendering routes from Paris Orly where a competing rail link of up to 2h 30min exists.
Transavia will be used to expand from a mini-hub in Lyon, as well as its other two bases at Nantes and Montpellier.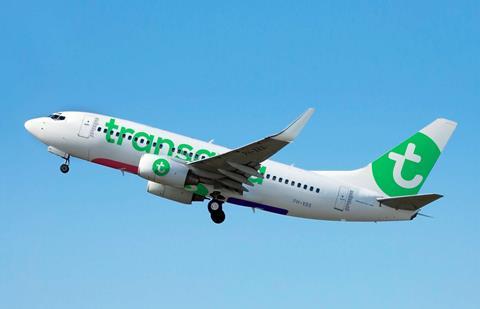 The budget airline's route network is yet to be detailed.
"Development of Transavia on the French domestic market is a key step in the [Air France] strategic plan to improve its financial performance," says Air France-KLM Group, adding that Transavia will enable Air France to be competitive in "each sector in which it operates".
Air France's regional carrier Hop will complement both the Transavia operations from Lyon and the Air France network at the flag-carrier's Paris Charles de Gaulle hub.
All the changes will take effect by 2023.
"Air France's domestic market is one of our group's strategic assets," says Air France chief Anne Rigail.
"Connecting the French regions and linking them to the rest of the world is integral to our business. To ensure this activity continues, it is now essential to restore its balance."
SNPL states that the vote, which concluded on 12 August, "clearly illustrates the pilots' desire to get involved" in both the future direction of Air France and the development of Transavia's French operation.