Proposed French start-up Happy Airways is seeking investors – including financing through crowdfunding – in order to establish an operation from Strasbourg.
Happy Airways argues that Strasbourg's network is "undeveloped" in comparison with demand, and is aiming to set up ATR 72-600 turboprop services to 14 potential destinations.
The start-up's "optimised" network, it claims, would turn Strasbourg into a "major hub in the heart of the European Union".
Happy Airways would initially use a pair of ATRs and offer free catering, and a personal in-flight entertainment system, as part of its flight product. It has not indicated the aircraft source or whether it would operate the turboprops itself, or through a wet-lease agreement.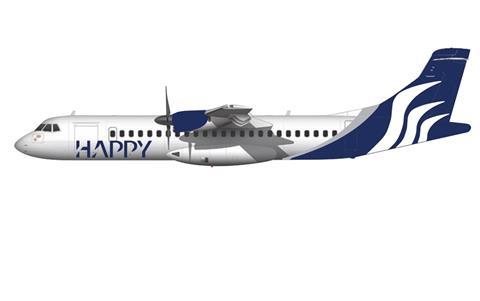 "By operating as a hybrid airline, with a great quality of service, an important network and with great air fares, Happy Airways would be a new game-changer in the air industry in the region," it says.
But to commence services the company needs to raise €4.75 million ($4.72 million), with €1.8 million to operate its first aircraft.
Happy Airways says it is initiating a "global appeal" to obtain the necessary funds, seeking both public and private funding – with crowdfunding and a lottery among its avenues.
"We are open to any new offer and we invite any person who has advice, or is ready to support and offer some funds to Happy Airways, to contact us directly," it states.
It says it is "ready to discuss" the project with local authorities, pointing out that it will initially create 50 jobs in the region.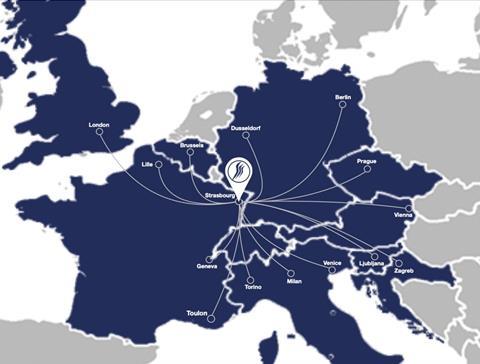 The airline has identified Brussels, London, Berlin, Dusseldorf, Geneva, Vienna, Prague, Milan, Turin, Venice, Zagreb, Ljubljana, Lille and Toulon as candidate routes.
It states that it wants to build a "multi-modal hub" from Strasbourg, operating some 4,400 flights per year.
The crowdfunding promotion includes offering various incentives depending on the size of the sum pledged – from €50 to €500,000. It is also offering prizes through a lottery draw.
As of 24 August it had raised about 4.5% of its €4.75 million target.
Happy Airways claims it will have a strong focus on the environment, with only electric cars and electric cargo bikes to reduce its carbon footprint, while its headquarters will implement "drastic measures" to reduce energy consumption.
"This to achieve its goal of starting a new zero-environmental footprint airline," it states, adding that it plans to set up a charity as part of its operation to support reforestation.