Middle Eastern carrier Emirates is set to defy instructions by London Heathrow airport's operator to impose a capacity cap, furiously rejecting the demand as "unacceptable".
It is accusing the airport of having "blatant disregard" for passengers by trying to enforce a daily capacity limit of 100,000 departing passengers.
Emirates insists it will operate to and from Heathrow "as scheduled".
It says it has spent months investing and preparing its operations for ramp-up, and has been flying six-times daily to Heathrow with Airbus A380s since last October – which means its operational requirements "cannot be a surprise".
Emirates' in-house ground-handler and caterer Dnata is capable of dealing with the airline's flights, it argues, and any operational problems are the responsibility of the airport.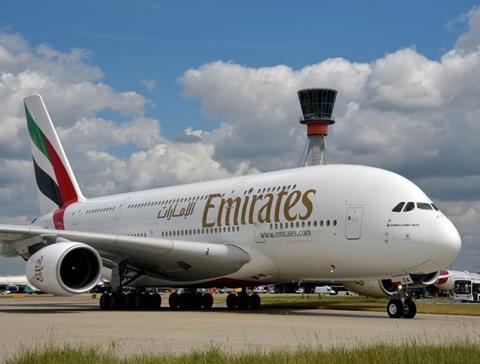 "The shareholders of London Heathrow should scrutinise the decisions of the [airport's] management team," the carrier says, in a sharply-critical statement.
It accuses the airport's operator of imposing the short-notice capacity cut using figures "plucked from thin air".
Emirates is refusing to comply, insisting that it would amount to unfair treatment of its customers, and that rebooking large numbers of passengers in a capacity-constrained peak season or switching A380 flights to other airports is unrealistic.
Heathrow's operator had hoped a slot amnesty would encourage airlines to remove flights from their schedules without penalty but, it states, not every carrier has taken significant action.
The capacity restriction will run from 12 July to 11 September.
Heathrow chief executive John Holland-Kaye says the airport began recruiting personnel in November last year, and that its security staff numbers will return to pre-crisis levels by the end of July.
"New colleagues are learning fast but are not yet up to full speed," he says. "There are some critical functions in the airport which are still significantly under resourced, in particular ground-handlers."
This situation, he says, is placing a "significant constraint" on the airport's capacity, and service levels have fallen to unacceptable levels as daily departing passenger numbers have regularly exceeded 100,000.
Emirates says it welcomes the UK government's decision to seek information from Heathrow's operator including the reasoning behind the 100,000-passenger threshold for capacity cuts.