Budget carrier Ryanair is discussing potential acquisition of the Boeing 737 Max 10 variant, although chief executive Michael O'Leary says negotiations over price are making slow progress.
Ryanair started bringing in a high-density version of the Max 8 – known as the Max 8-200 – in June, expanding its fleet this summer to 12 and aiming for 60 by summer 2022.
Speaking during a briefing in London on 31 August, O'Leary said the airline was holding talks with Boeing about the Max 10 but admitted the "discussions are going slowly".
"We can't yet reach agreement on price," he says. "There's still a meaningful gap between us and Boeing on price."
O'Leary describes the Max 10 as a "great aircraft" with a 230-seat layout which is close to that of the Airbus A321neo.
He indicates that Ryanair would "take it in the standard [configuration]" rather than a higher-density layout – "perish the thought" – and operate the type on its European routes rather than venture into transatlantic services.
"I'd like to think we'd be able to use them on the big summer routes – the Canary Islands in the winter, and Faro, Malaga, Palma de Mallorca in summer," he says.
"But actually we're never that clever. So they'd just go on the same routes as our existing fleet, giving us more seats with lower operating costs."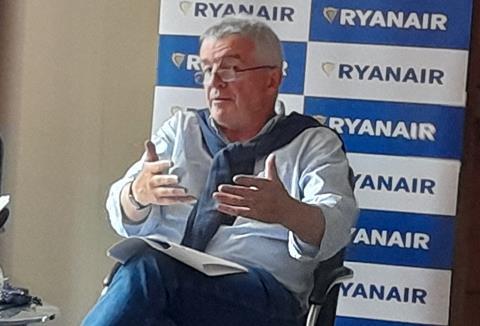 O'Leary says that, while the carrier's load factors remain lower than normal, its 737 Max 8-200s have been generating fuel savings "better" than the 16% promised by Boeing.
Despite initial concerns that passengers might be reluctant to board the Max, after its prolonged grounding for recertification, he insists the jets have been "remarkably popular".
O'Leary claims that "not one passenger" in the first few months of operation has decided to take up the carrier's offer of free offload and rebooking from a Max-operated flight.
"Not one cabin crew [member] or pilot has offloaded either," he points out. "Crews love the aircraft – the interiors are fantastic, it's much quieter, there's more legroom. Pilots love the technology, and it's been a generally overwhelmingly-positive experience both for our people and our customers."
O'Leary believes the safety concerns which centred on the Max will be "consigned to history" – much like the lithium battery problems with the Boeing 787 – but says: "It's imperative the Max goes through the next 12 to 18 months incident-free."