Georgian Airways has defended its decision to open services to Russia, following a bilateral agreement, insisting that the measure is not a political gesture.
The carrier started operating its A9930 flight from Tbilisi to Moscow Vnukovo on 20 May, initially with a Boeing 737-700, in spite of vehement opposition from the Georgian leadership.
Russian federal air transport authority Rosaviatsia states that, based on a reciprocity agreement, Georgian Airway has been granted seven weekly frequencies on the route.
It follows similar permission from Georgian regulators to allow Russian carrier Azimuth to operate seven weekly flights, with Irkut Superjet 100s, between Vnukovo and Tbilisi.
Georgian president Salome Zourabichvili says Russia has "landed its unwelcome flight" in the capital "despite the opposition of the Georgian people".
She had stated, earlier in May, that resumption of direct flights between Russia and Georgia was "unacceptable" given the conflict in Ukraine. Georgia had experienced its own Russian invasion in 2008 after rising tensions over disputed territories.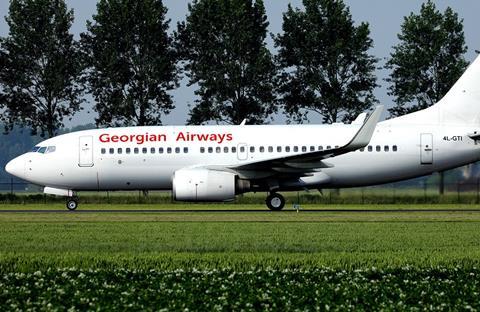 But Georgian Airways rejects "heartbreaking" accusations that it is acting against the country's interests, claiming it is the victim of a "dirty campaign".
It says the imposing or lifting of visa restrictions between Georgia and Russia, which affects air traffic, is not an airline decision but a matter for governments.
"We are not a political organisation, therefore we do not make political decisions," the carrier insists.
"We must fulfil the demand of the Georgian people and we must serve the routes on which the citizens of Georgia want to travel. We don't have any policy other than serving the Georgian people."
Georgian Airways says it continued to operate during the 2008 conflict, publicising the country's plight, and adds that its employees include individuals who fought for Georgia's territorial integrity. "It is shameful when someone dares to call our company a traitor," it says.