South Africa's government has defended its R10.5 billion ($640 million) funding of South African Airways' rescue plan, insisting that the financing will help finalise the restructuring and assist the selection of a strategic equity partner.
It is dismissing criticism of the plan from the Democratic Alliance, its political opposition, claiming that a liquidation of the carrier would have cost over R18.5 billion – while its funding will ultimately result in a new airline that will ease SAA's pressure on the national budget. The government adds that the opposition "ignores" the threat to SAA workers' jobs.
SAA's business rescue plan proposed that the government fund – or raise funding – to pay lessors, provide a working capital injection, cover retrenchment costs, and honour unflown ticket liabilities.
The government is also repaying lenders through a separate R16.4 billion allocation set out in the budget earlier this year.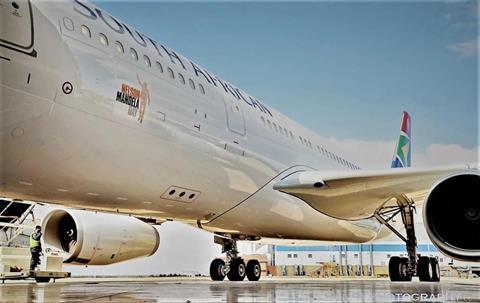 Concerns over the government's ability to source funding for the rescue emerged in September when the airline suspended operations as a result of dwindling resources.
The government's plans to obtain the funding had been hazy. It was holding discussions with several parties, and the Democratic Alliance had insisted that the government should not resort to using public funds to bail out the airline.
But the government has defended its fiscal juggling to provide SAA with the necessary capital.
The R10.5 billion sum will "pave the way" for finalisation of the business rescue and restructuring, through the settlement of debts, recruiting of management personnel, and establishment of a social plan.
It also claims the provision will enable it to continue the selection process for a strategic equity partner to "strengthen" the launch of the restructured airline.
"Completion of the business rescue process is the only viable [path] to a viable and sustainable national carrier," says the government's department of public enterprises.
The department says it is "engaging constructively" regarding formation of the new airline in the first half of 2021, and believes the restructuring will "create a solid base" for a competitive carrier.
It adds: "The cumulative effect of these actions is that government will be partnering with the private sector in the launch and management of the new airline, and relieving the financial burden from the fiscus."