Royal Jordanian Airlines has posted a pre-tax and net loss of JD25.4 million ($35.8 million) for the first quarter, five times the figure recorded last year.
The company recorded a 21% fall in revenues to JD114 million, including JD87 million from scheduled passenger services, but only a 6% reduction in expenditure to JD117 million.
Royal Jordanian turned in a quarterly operating loss to 31 March of JD17 million, contrasting with a profit of JD4 million in the same period of 2019.
It says the Jordanian government's decision to suspend passenger services to and from Jordan from 17 March has "significantly affected" the carrier's revenues to "unprecedented levels".
The cancellations led to ticket refunds totalling some JD19 million over the accounting period.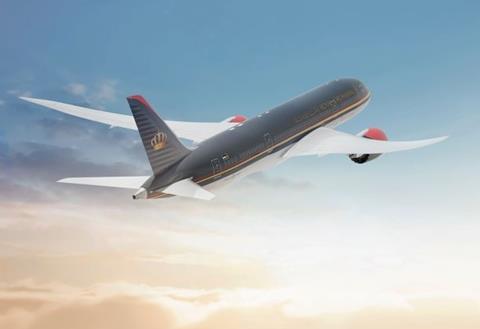 Royal Jordanian has held negotiations to reschedule leases and loan payments, and its board approved a new JD50 million towards the end of April to help the company cope with cash obligations.
But the Jordanian government is stepping in to support the operator, according to a "comfort letter" received from the ministry of finance.
The extent of this support is being evaluated by a committee which includes representatives from the ministries of finance and transport, the Jordanian civil aviation regulator, and the Central Bank of Jordan.
Jordan's governmental investment management company holds the largest share of the operator, with 82% interest.
Royal Jordanian signed for a syndicated $275 million (JD195 million) loan in late 2015, which it had already restructured in February last year.
While the company says it remains compliant with loan covenants, it is rescheduling instalments due during March-September 2020, adding them proportionally to instalments due after September.
According to the loan agreement, adds the company, it is obliged to transfer proceeds of sales from travel agents in 23 stations, collected through IATA, to a bank account to serve as collateral.
Royal Jordanian says it has capital commitment relating to the financial lease of three more aircraft, but has the option not to acquire them. The company's total liabilities stood at JD734 million at 31 March, with total assets of nearly JD835 million.