South Africa's political opposition is urging the country's finance minister, Tito Mboweni, to abandon the R10 billion ($680 million) funding plan to restructure South African Airways and plough the capital into a vaccination programme.
The Democratic Alliance has written to Mboweni claiming that the government should "divert" the SAA allocation to procuring vaccines against the coronavirus outbreak.
According to the Democratic Alliance the R10 billion funding package could acquire some 23 million doses of the vaccine, enough for 40% of the country's population.
It has accused the main governing party, the ANC, of "skewed" fiscal priorities, claiming that the vaccine funding has come from the Solidarity Fund – a rapid-response organisation established to combat the pandemic, funded by donations which have amounted to some R3.2 billion.
"Why is the ANC choosing an airline for the elite over a vaccine for the many?" the opposition queries, adding that it has also written to parliament's appropriations committee asking for public hearings on whether South African citizens want the SAA budget re-allocated.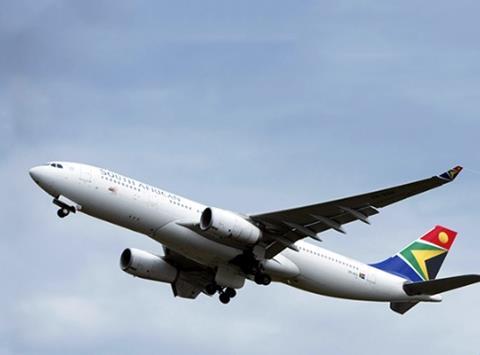 South African health minister Zweli Mkhize stated on 28 December, in reference to the effort to combat the pandemic, that "the problem in [South Africa] is that we have constraints in terms of financial resources" – a comment upon which the Democratic Alliance has seized to underline its point about SAA funding.
While the government is still intending to press ahead with a restructuring of SAA in 2021, it has been attempting to resolve conflict among unions over unpaid salaries as well as a dispute with cockpit crew representatives over conditions of employment in the new carrier.
The South African department of public enterprises has stated that it cannot accept the "financial burden" of the pilot association's three-decade-old regulating agreement, because there is a need to reduce cost structures in order to launch a reshaped SAA.
It says the regulating agreement served to "preserve undeserved privileges accrued through unjust laws" which restricted aviation careers to a "small minority", adding that it is "unconstitutional and unlawful and should be terminated".
Discussions over the situation failed to result in an agreement during December, prompting a lock-out of the pilots.
Pilots union SAAPA – along with the cabin crew union SACCA and metalworkers' union NUMSA – declined to accept a recent offer to pay three months' worth of deferred salaries to SAA workers, which was taken up by a number of other unions at the company.