Russian carriers have been restructuring debts owed to state leasing firm GTLK in response to the economic problems emerging from sanctions on the air transport industry.
GTLK expects domestic traffic this year will remain at last year's level but overall Russian airline passenger transportation will fall by 10%.
Rostov-based airline Azimuth is carrying out two lease payment restructuring efforts covering a total of Rb475 million ($7.9 million).
Azimuth is an operator of Irkut Superjet 100s, and had been intending to operate Airbus A220s. GTLK says it applied for restructuring owing to the federal restrictions imposed on a number of airports in southern Russia.
Eleven airports are affected by the restriction – implemented at the beginning of the Ukrainian conflict – including Rostov, Krasnodar, Belgorod, Voronezh, Simferopol and six others.
The limitation period has been repeatedly extended and air transport regulator Rosaviatsia says it will run at least until 31 May, with airlines advised to operate instead from airport such as Sochi or Volgograd.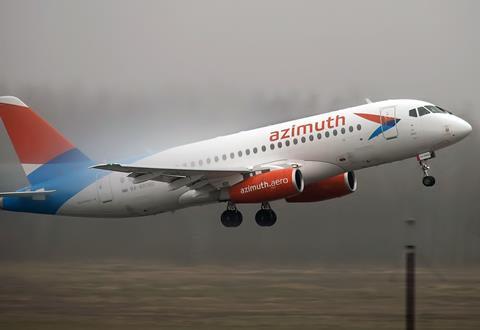 GTLK general director Evgeny Ditrikh says the air transport market is "experiencing difficulties" but that "conscientious companies" are striving to fulfil obligations, and the lessor views support for its customers as a "priority task".
The company says it has also restructured accumulated debts for the Siberian carrier SiLA and its associated operator Aeroservis amounting respectively to Rb328 million and Rb76 million.
GTLK adds that it is negotiating with other partners over their need for debt settlement.