Royal Jordanian chief executive Samer Majali believes the airline is an ideal candidate for acquisition by a larger Gulf-based operator, given its location and capabilities.
Speaking to FlightGlobal at the Arab Air Carriers Organization conference in Riyadh, Majali said a strategic investor would obtain an alternative hub – away from closely-spaced ones in the Gulf region – with access to the Levant and a trained workforce.
"We're surprised none of the Gulf carriers ever thought to buy Royal Jordanian," he says.
Majali believes that, as the flag-carrier is returning to an upward trajectory, it presents an excellent investment opportunity in terms of timing and the potential for value creation.
He says the carrier is well-run but small and, as a result, its financial performance is "always on the margins", typically hovering around plus-or-minus $15 million on revenues of around $1 billion.
"That's what we're looking for, to partner with a well-funded carrier that will allow RJ to be profitable," he states.
"It's not a huge liability. In fact it could become profitable with the economies of scale they have, the purchasing power, and so on."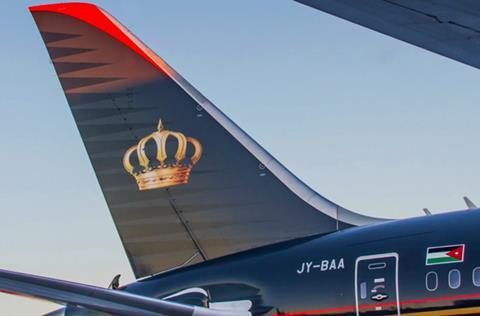 Majali suggests Qatar Airways would "make sense" as such a partner. While both airlines are Oneworld partners, Majali argues there are other reasons to explore a tie-up.
"They don't have population. We have population," he says. "They're sitting in the middle of a very difficult region."
Saudi Arabia's ambitious airline plans will pose a substantial challenge to other Gulf carriers, he believes: "They're going to be battering them to pieces. Down the line the main target of this new Saudi carrier [Riyadh Air] is [Emirates and Qatar Airways]."
Majali points out that Royal Jordanian has served as a supplier of personnel to the Gulf airlines over the years. But he acknowledges that economic considerations for a consolidation are likely to clash with political ones.
Royal Jordanian underwent privatisation in 2007, with the Jordanian government retaining only a 29% stake, and the carrier remains listed on the Amman stock exchange.
But subsequent capital injections by the government, during periods of losses, have substantially diluted the private ownership. Even so, the government is not interfering with the airline, insists Majali.
He stresses that the government, despite holding some 86% of the company, "doesn't touch [us] with a bargepole".