Swiss operator Helvetic Airways is to switch part of its order for Embraer regional jets to the larger E195-E2 variant.
Helvetic will configure the aircraft with 134 seats, in a single-class layout, compared with the 110 seats of its E190-E2s.
The airline had originally ordered 12 E190-E2s, powered by Pratt & Whitney PW1900G engines, under an agreement disclosed in 2018.
It has received five of the aircraft.
Embraer says four of the remaining seven aircraft will be converted to the E195-E2.
It says delivery of all these jets will be completed by the end of 2021, with most deliveries taking place in the first half.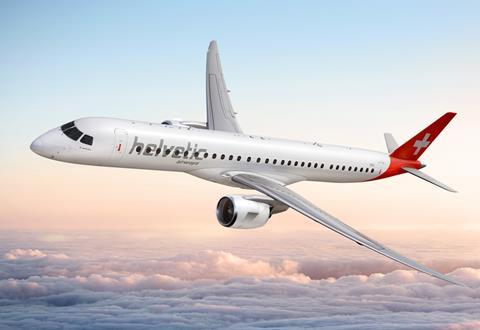 Embraer says the outstanding aircraft have a list price of $480 million. Helvetic also holds purchase for a further 12 E190-E2s which are also convertible.
With the different aircraft sizes, the carrier will be able to alter its passenger offering to meet demand, says the airframer.
"[This is] very useful in the current environment where demand is seeing significant fluctuations," it adds.
Helvetic Airways chief Tobias Pogorevc says the larger variant "strikes a good balance" between seating capacity, range, fuel consumption and environmentally-friendly operation.