Swiss regional carrier Helvetic Airways is leasing another pair of Embraer 190s, which will be sourced from TrueNoord.
The aircraft will be place under three-year operating leases with the airline.
They will take Helvetic's fleet to 18 E-Jets, including six E190s. Helvetic also uses 12 of the re-engined E2 family, comprising eight E190-E2s and four E195-E2s.
"These additional availabilities allow Helvetic Airways to maintain a stable flight schedule even under the current challenging conditions," says chief executive Tobias Pogorevc.
He says they will enable the carrier to provide greater planning certainty to passengers, with a "high level" of reliability and punctuality.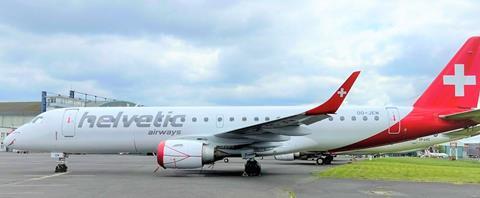 TrueNoord has identified the aircraft as a pair originally delivered to leisure group TUI's Belgian airline in 2013 – as OO-JEB and OO-JEM – and used by the carrier since.
Helvetic will base the twinjets in Zurich and, in addition to flying them on its scheduled network, will use them for tour operations and wet-lease capacity.
Pogorevc says the E190s are "the perfect addition" to its fleet.
TrueNoord's sales manager for Europe, Ahmed Ali, says the lessor has made the aircraft available ahead of the summer peak, "despite the supply chain and MRO challenges".