UK regional carrier Flybe's collapse into administration during January was "disappointing and unexpected", according to the operator of its Belfast City airport base.
But while Flybe's cessation of operations might have seemed sudden, there had been indications of problems at the carrier – notably at its main Belfast and Birmingham stations – in the short nine months since it commenced services.
The most recently available statistics from the Civil Aviation Authority (CAA), for the six-month period from June to November last year, point to high rates of Flybe flight cancellations from Belfast.
Cancellation rates were recorded in August of 14%, 10% and 9% respectively for routes to Edinburgh, Leeds Bradford, and Glasgow.
But by October these had risen to 17% for the two Scottish services, and 21% for Leeds, while other key routes were also experiencing high rates.
CAA figures show the situation deteriorated in November, with several routes recording cancellation rates above 20% or even 30% – among them Southampton, Newcastle, Leeds and Glasgow.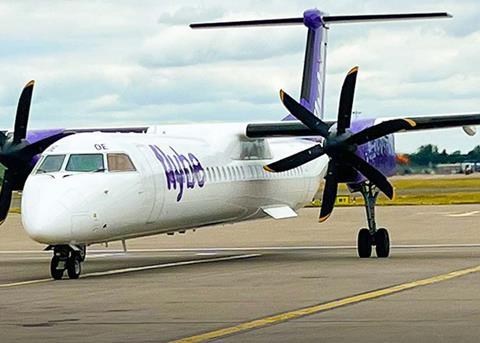 The CAA has not been able to obtain cancellation information for Flybe's flights from its Birmingham base, owing to technical issues affecting the data supply.
But data on Flybe return services to Birmingham from a number of regional airports suggest similar disruption. The cancellation rates on flights from Edinburgh and Glasgow were around 12% and 20% during October.
According to the CAA data, the airline appeared often to be cancelling services at higher rates than other carriers offering more frequencies on the same route.
The reasons for the cancellations are not specified, and the extent to which Flybe might have been required to pay denied-boarding compensation is unclear.
While Flybe's route network was centred on Belfast and Birmingham, the airline was also trying to compete at the Heathrow and Amsterdam hubs – airports served by feeder-fed major operators, but which have also experienced severe disruption to flights during post-pandemic recovery.
CAA data shows that Flybe's average monthly load factors across its network were hovering around the 50% mark over the six months from June to November 2022. The highest load factor on CAA record was 61% in April 2022, the airline's first month of operation.
While the airline was operating efficient De Havilland Canada Dash 8-400 turboprops, and numerous factors determine the profitability of individual routes, the figures are nonetheless substantially lower than the 75-85% load factors being achieved by the original Flybe, the carrier's predecessor, in the corresponding months before its failure.
The original Flybe's fleet included over 50 Dash 8-400s, nine of which were taken up by the revived airline. Twenty remained with lessors, while firefighting conversion specialist Conair acquired 11, and the other dozen or so were transferred to a handful of individual operators.
When the successor airline began acquiring its initial Dash 8 towards the end of 2021, it had plans to lease 12 through Nordic Aviation Capital and subsequently expand to a fleet of 32.
Administrators for Flybe have cited delays in delivering 17 aircraft – intended to give Flybe the scale to compete – as having contributed to its collapse. It is unclear, given its levels of flight cancellation, whether Flybe also required aircraft to provide resilience or mitigate any technical problems.