IAG is turning to attention to securing personnel agreements with British Airways' freight-handling operation, in order to round off its cost-saving and restructuring measures.
Chief executive Luis Gallego, speaking during a third-quarter briefing, said that the company had achieved substantial savings at the UK flag-carrier but "still has to close agreements" with some group, "the most important of which is cargo".
New BA chief Sean Doyle says the carrier is "still engaging in consultation" regarding changes to the cargo business.
IAG has revealed that its cargo revenues for the third quarter reached a record level for the period, at €302 million, over 11% higher than last year. While the reduction in passenger schedules brought down cargo carriage by 40% over the first nine months, yields on cargo-only flights were "significantly higher".
"Yield performance was favourable versus the previous year and demonstrates the distinct shift in supply of market capacity and demand," says IAG Cargo chief Lynne Embleton. "The prevailing strong yield environment has allowed us to expand services and open markets that had previously been closed."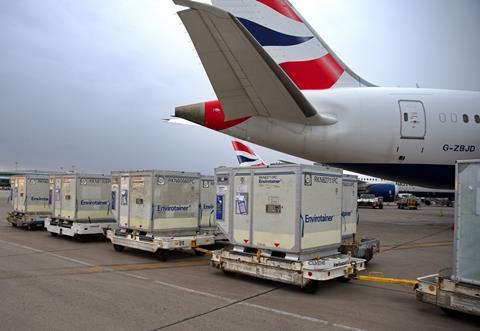 Under the broad restructuring measures introduced by BA just over 9,600 employees had left the company by the end of October – around 80% of which were through voluntary redundancies – with close to another 200 set to depart by early 2021.
IAG says BA is expecting to benefit from a 30% saving in annual employee costs.
The parent company also points out that BA has "significantly enhanced" flexibility to vary these employee costs if air transport demand remains slack – with layoff and short-time working clauses applicable to 19,000 of 28,000 UK staff.
BA has made use of the UK government's job-retention scheme, which has reduced its employee costs by £38 million per month over the five months from April-August, falling to £5 million in September. The scheme ends on 31 October, to be replaced with a different initiative in November.
IAG's Spanish carriers have taken advantage of the national government's furlough scheme, ERTE, providing a monthly benefit of €25 million to Iberia and €10 million to Vueling since April. The ERTE scheme is set to end in January 2021.
Vueling, which has also used local furlough schemes in Italy and France, has reached agreements with Spanish-based crews to vary employee costs in line with capacity from November this year to December 2021.
Irish operation Aer Lingus has similarly used a furlough scheme since April, and has shed nearly 800 personnel including almost 600 short-term contractors and 200 outsourced catering staff. Aer Lingus also plans 250 redundancies.
Gallego stresses that the aim of the restructuring measures is to enable the company to survive. "The objective is not the number of people," he says. "It's the reduction in cost."