Icelandair Group is confident in its expectations for a full-year net profit, after the strongest second quarter in seven years.
The company has disclosed a profit of $13.7 million for the period, on strong unit revenues, and reduced its first-half loss to $35.4 million.
Icelandair Group transported 1.2 million passengers over the three months to 30 June, with a load factor of 83.6%.
It says demand on North American routes has been particularly strong.
Icelandair Group acknowledges that the quarter was affected by one-off costs associated with the need to lease extra aircraft in June, owing to capacity shortage arising from delays in maintenance. It puts the impact at $8 million.
Chief executive Bogi Nils Bogason adds that the cargo operation "remained challenging", but he is optimistic that the company will "turn it around within the next few months".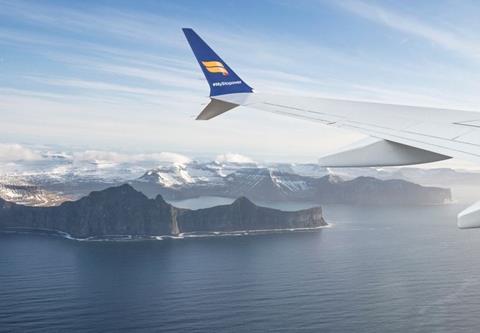 Bogason says the second-quarter performance has been assisted by lower fuel costs arising from the fleet modernisation through which Icelandair introduced Boeing 737 Max jets.
"The prospects for the second half of the year remain favourable with continued strong bookings," he adds.
"Demand for flights to and from Iceland has been strong over the past months.
"Capacity through Keflavik airport has also increased sharply, to 20% above pre-Covid levels this summer, and even more into next winter.
"This development is expected to impact yields and revenue growth in some markets in the second half of the year. However, we are well equipped to adapt to market conditions at any given time."