Icelandair Group is cutting four Boeing 737 Max jets from its order commitment and revising deliveries of the remaining six as part of a final settlement with the airframer over Max disruption.
The company has detailed the settlement after concluding a series of agreements with creditors and stakeholders essential for proceeding with its financial restructuring measures.
Icelandair already has six 737 Max 8s and 9s, delivered before last year's grounding of the type, part of an order for 16.
But it says the settlement with Boeing – which mostly remains confidential – reduces its purchase commitment by four aircraft, and reschedules deliveries of the outstanding six.
The six aircraft will be delivered from the second quarter of 2021 to the first quarter of 2022.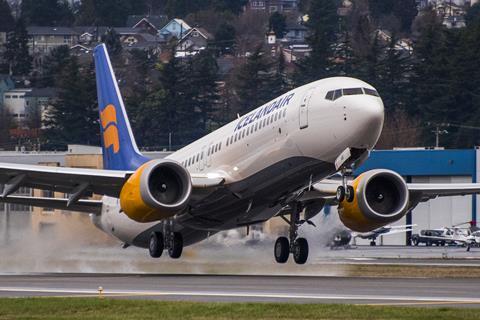 Icelandair Group says the settlement provides "additional compensation" which covers a "substantial portion" of the damages inflicted by the March 2019 grounding. The compensation will mainly be realised by the second quarter of 2021, the company says.
"This agreement strengthens Icelandair Group's liquidity position and allows for more flexible fleet planning in the upcoming years," it adds, stressing that the 737 Max remains an "important element" of its strategy.
Icelandair Group's stakeholder negotiations have already resulted in collective bargaining pacts with pilots, maintenance personnel, and cabin crew, and the company has also reached concessions with creditors aimed at balancing cash inflow and outflow.
These creditor negotiations are conditional, and depend on the completion of the company's planned share offering as well as its entering an agreement on a state-backed credit facility.
Icelandair Group says talks on a term sheet for such a facility – which would be supplied by Islandsbanki and Landsbankinn – are in their "final stages".
This facility will also be subject to the company's completing its share offering, a timeline for which will be disclosed to potential investors over the next few days.
Icelandair Group recently obtained shareholder approval to increase share capital by up to IcKr30 billion and it is aiming to raise $150-200 million through the new share issue.