Icelandair Group will look to replace its Boeing 757 fleet from the second half of the decade, following a review of its long-term strategy.
Chief executive Bogi Nils Bogason, speaking during the company's full-year results briefing, stated that the current fleet composition is "very well suited" to its route network in the short term.
"It is most likely that near future growth of the network will be supported by current aircraft types," he says.
But he adds that the company expects to stop operating the 757 in its passenger network around 2026.
Thirteen 757s will be among the 35 aircraft used on Icelandair's summer 2022 network.
Bogason says Icelandair Group has "several options" for its long-term fleet, and will "start to lay the groundwork" for renewing the twinjets – through a competitive campaign – over the next 12 months.
"It is a very good position to be in," he says, adding that the fleet could comprise 737 Max jets with widebody types, or the carrier could "start to the transition to an Airbus fleet" in the second half of the decade.
While Bogason declines to indicate the number of aircraft which might be considered, given the uncertainty in the air transport sector, he says long-range versions of the A321neo are "definitely an option". But he adds that the airline could opt for a mix of 737 Max and 767s with a view to transitioning to the 787.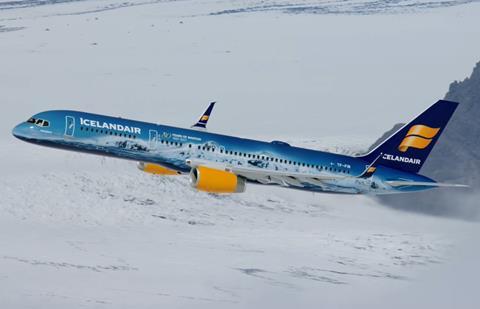 Icelandair recently agreed to expand its Boeing 737 Max operation to 14 aircraft for summer 2022, comprising 10 Max 8s and four Max 9s. It says the type offers the opportunity to introduce new destinations and frequencies on its network – particularly for off-peak periods.
The company is expecting capacity this year to reach around 80% of pre-crisis levels, although it stresses that its priority is to return to profitability and that capacity will be adjusted to ensure sustainable operations.
Icelandair will offer an "ambitious" schedule, it says, with 50 destinations during the year – including 27 in Europe, 16 in North America, four in Greenland and three in Iceland. New routes include Raleigh-Durham in the USA, plus Rome, Nice and Salzburg.
The company states that it is aiming for a 3-5% ratio for operating margin and to turn in a net profit for the full year.
Icelandair Group turned in a full-year operating loss of $136 million for 2021, and a net loss of nearly $105 million. The operating loss for the fourth quarter reached $35 million.