Icelandair has tied up with a Norwegian flight school, the Oslo-based Pilot Flight Academy, in a training partnership programme for cadet pilots.
Cadets recruited to the scheme will initially be trained at Torp-Sandefjord airport before moving to the school's US facility at Denton Enterprise airport, Texas, for five months' flying.
They will then return to Torp to complete the 18-month programme, before embarking on a three-month session with Icelandair specifically training on Boeing 737s or Airbus A320s.
Icelandair is a 737 Max operator but is aiming to expand its single-aisle fleet with A320neo-family jets.
"Iceland depends on air transport," say Icelandair Group chief Bogi Nils Bogason. "Although there is still great demand for jobs with Icelandair, it is very important to support the continued growth of the company and our team for the future."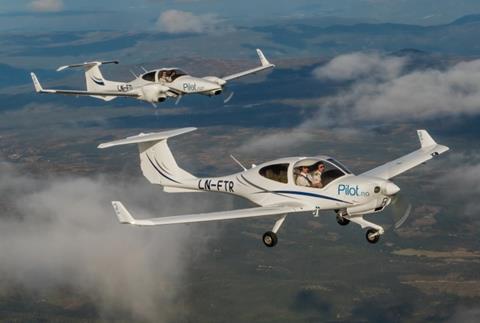 The first group of cadets will begin training in November, says the academy, which has a fleet of Diamond DA40s and DA42s.
Pilot Flight Academy says that recruiting sufficient young people to the industry is "one of the primary challenges".
"Competition for talent is intense, and students expect high quality, job security, and favorable conditions," says the academy's chief, Mikael Eriksson.
While the academy offers a small number of scholarships, Eriksson says the responsibility to train enough pilots must be borne by the "entire industry", adding that the Icelandair partnership demonstrates how airlines can "secure critical resources".