Icelandair Group expects to start its recovery ramp-up in the second quarter of 2021, but its conservative approach will not return the operator to pre-crisis levels until 2024.
The company has detailed its position to potential investors as it prepares for a share offering intended to raise IcKr20 billion ($148 million), and up to IcKr23 billion in the event of oversubscription.
This figure is lower than the IcKr30 billion originally envisioned, and for which the company had obtained shareholder approval in May.
Icelandair Group says measures it has put in place have since left the company "stronger" than it had been at the time of this approval.
The measures have included collective agreements with personnel, concessions with creditors and vendors, and a deal to restructure its Boeing 737 Max order.
Icelandair has also managed to maintain a limited – but profitable – schedule over the summer season, while it has also benefited from cargo and leasing services despite the crisis.
The company's approval for the IcKr30 billion capital increase expires on 1 September, and it is to seek renewed support on 9 September for the revised proposal.
Iceland's government has agreed to provide the company with a guarantee for a credit facility of up to $120 million. This will depend on a successful share offering as well as parliamentary approval.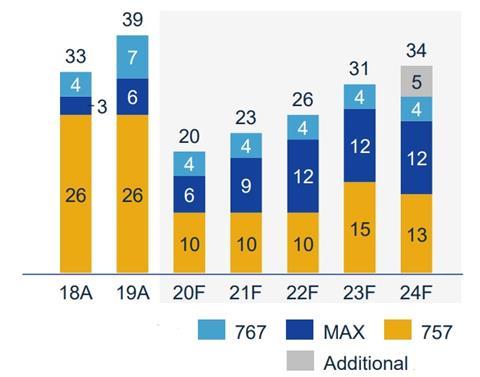 The company is plotting a recovery which estimates capacity will return to 2018 levels – the last year before Icelandair was affected by the 737 Max grounding and the pandemic crisis – in 2024.
Ten outstanding 737 Max orders will be cut to six, with three scheduled to arrive over winter 2020-21 and the other three in winter 2021-22. The airline says it expects Max recertification in the fourth quarter of this year.
Icelandair projects that, by 2024, it will restore its fleet to 34 aircraft. It will have a total of 12 737 Max jets, and four Boeing 767s, but will have halved its 757 fleet to 13 compared with 2018. The airline also indicates it will have five other aircraft, but has not indicated the type.
It says it does not require any additional aircraft commitments until 2024, but states that it has been exploring several options regarding long-term 757 replacement – including additional 737s or Airbus A320s.
The carrier conservatively estimates it will transport 1.4 million passengers in 2021, but indicates that this could more than double if a faster recovery takes hold. It stresses that it has the flexibility to cope with a quicker ramp-up.
But the company says that it still expects the overall restoration of passenger numbers to take four years to materialise, and predicts 4.5 million in 2024.
Icelandair Group puts the direct one-off cost effect of the pandemic for 2020 at $210 million, including $123 million of impairment and $47 million in fuel hedges, plus $43 million in redundancy expenses and a $28 million precautionary reserve of Boeing 757 engine life.
But it says the overall negative effect of the crisis on its full-year 2020 results will be "much higher" than this figure.