Icelandair Group has warned that if its operation collapsed, the Reykjavik Keflavik hub would take years to rebuild and, as a result, would cause substantial damage to the country's economy.
The company, which is preparing a $150 million share issue, has outlined the bleak consequences of receivership to potential investors as it touted the opportunities for Icelandair's recovery.
Icelandair's business model is based on transatlantic operations through its Keflavik hub, and it claims that such hubs stand to benefit from the air transport crisis because a "significant number" of marginal non-stop transatlantic routes will be discontinued as a result of the abrupt fall in demand.
"These market dynamics present an opportunity for Icelandair as it offers a one-stop product through a hub in the transatlantic market," it states. "[It is] less dependent on traffic flows between individual city pairs."
Icelandair points to the traffic situation on the Copenhagen-Boston route which, it says, became busy enough in 2016 for SAS and Norwegian to operate non-stop services.
While this additional competition eroded Icelandair's position, the carrier says that this sort of development "will likely happen in reverse" for several routes, with airlines withdrawing from the non-stop market.
"As a result Icelandair may, in 2022, find itself in a similar position as before 2016 for flows like Copenhagen-Boston," it says.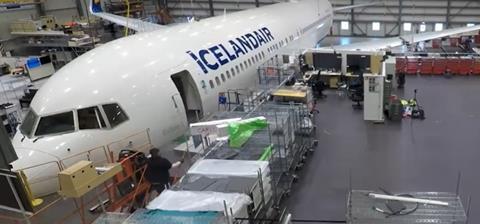 The airline adds that the replacement of Boeing 757s with 737 Max jets will improve unit revenues, while its new union agreements with pilots and cabin crew will enable it to open "previously inaccessible" network and charter avenues.
Icelandair believes its markets will reach a "new equilibrium" within two years, and says: "A period of capacity restraint and stable yields followed previous aviation crises, and the same is to be expected now."
But if Icelandair was allowed to fail, it says, its demise would create a "bleak picture" for the Icelandic economy, setting back aviation and tourism in the country "by years".
International carriers – both full-service and budget operators – would aggressively carve up the Europe-Iceland and US-Iceland markets, fragmenting the traffic flows in line with their own individual bases.
Keflavik airport would experience a "significant" capacity drop, Icelandair claims, because the transatlantic market via the hub would not be served by foreign carriers, depleting the number of destinations available from Reykjavik.
"Many routes to and from Iceland are not sustainable without the 'via' traffic," the carrier says.
North American airlines would restrict their operations to hubs and reduce, by up to six, the number of US cities served from Keflavik compared with the 17 available in 2019. This would also have a knock-on effect on fresh fish transport, with the market reach markedly reduced.
"A new Keflavik hub airline might emerge but it would take years for it to reach Icelandair's current strong position," says the carrier.
Any new hub operator would need three to six months' experience before opening services to North America, and the complexity of a hub operation would force it to expand more slowly than point-to-point carriers.
"Procuring optimally-timed slots in highly-congested key airports for hub operations might take five to 10 years and be expensive," adds Icelandair.
Icelandair Group is estimating a full-year operating loss of $363 million for 2020 including $315 million for Icelandair itself.
These losses will reduce in 2021 – to $75 million for the airline and $43 million for the group – before both return to profit the following year.
Icelandair Group is expecting a full recovery by 2024, when it forecasts its operating profit will reach $175 million.