Icelandair Group's passenger operations proved strong over the first quarter, but the company is citing an unfavourable market – as well as schedule irregularities – for a below-expectation performance in the cargo sector.
The company generated revenues of $233 million, including $170 million from passenger services, with record unit revenues.
But the cargo contribution of $23.7 million was 4% down on the previous year. Icelandair Group says the market outlook for cargo "remains challenging", and it will employ "capacity rationalisation" to restore profitability.
It turned in an overall operating loss of $61.6 million for the three months to 31 March, deeper than the previous figure of $58.3 million.
Icelandair Group says it was affected "more than expected" by fuel prices, inflation, and severe weather disruption in January and February.
The company's net loss for the quarter reached $49.1 million – almost unchanged from the same period last year.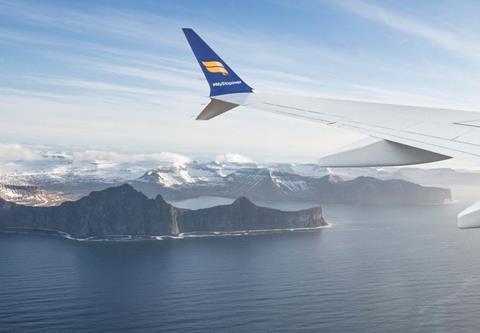 Icelandair Group hiked capacity by 38% and transported 57% more passengers, generating its highest first-quarter load factor – 78.2% – for seven years.
"Performance of our passenger route network improved significantly in the first quarter, driven by strong revenue generation with record unit revenue and improved utilisation and yields," says chief executive Bogi Nils Bogason.
He says the market for travel 'to Iceland' was "particularly strong" and accounted for 43% of total passengers. The 'via Iceland' and 'from Iceland' markets made up 27% and 21% respectively, with domestic passengers comprising the remaining 9%.
Icelandair's prospects for this year remain positive, says the company, despite the inflationary and operational pressures. It will operate to 54 destinations, with 40 aircraft, and booking outlook for the second and third quarters is "good", it states.
"Passenger demand has remained resilient in all key markets, with a particular strength towards the latter half of the year," the company adds.