Icelandair Group is to sell three of its Boeing 757-200s, which will be converted into freighters following the transaction.
Disposal of the Icelandair aircraft will generate about $21 million in net proceeds, the company says.
It has not identified the buyer of the twinjets. Two of the aircraft are 1994 airframes, while the third was manufactured in 2000.
The airline's 757s, configured with 183 seats, are fitted with Rolls-Royce RB211 engines.
Icelandair Group states that the sale agreement means they will raise about $2-3 million more than their book value.
"Final documentation is expected to be completed in the upcoming weeks," it adds.
Icelandair Group has been intending to halve its passenger 757 fleet following the introduction of Boeing 737 Max jets. Icelandair has 24 – including two 757-300s – while its cargo division has two, and leasing specialist Loftleidir Icelandic has five.
Fleet plans revealed during the group's recent share issue indicate that it will bring the number of 757s down to 13 aircraft by 2024.
The type has been strategically important to the airline's business model of transatlantic connections via Reykjavik Keflavik airport – particularly US west coast services – by offering long range with low ownership costs.
"Low ownership cost is beneficial during the low season and to maintain fleet-size flexibility," the company says.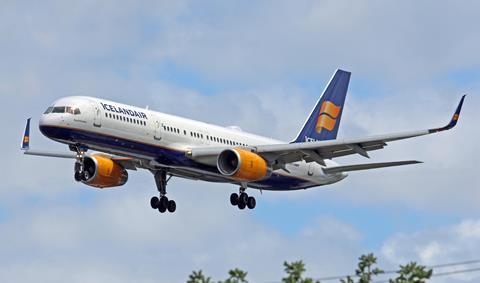 Its fleet renewal schedule has been badly affected by the grounding of the 737 Max, of which Icelandair had received six. It has cut back its original order and plans to take 12 Max jets.
"This transaction shows that the 757 aircraft still has considerable value after long-lasting service for the company and continues to be operated for years to come," says Icelandair Group chief Bogi Nils Bogason.
The sale is a "positive step" amid the air transport crisis, he adds.
But Bogason says the carrier still has "excess aircraft" in storage, despite the sale, as the company awaits the opportunity to recover its network.
Icelandair Group plans to retain 757s until at least 2025. "The company will maintain the flexibility to keep the newest 757 aircraft in the event its route network will require a larger fleet than the current operating plan," it states.
Eventual phase-out of the type, it says, will depend on market conditions.
Icelandair Group says its fleet plan does not require any additional aircraft commitments until 2024, but that it is looking at various options for long-term replacement of the 757s – including more 737s or even long-range Airbus A320neo-family jets.
"There is a possibility that the [A321LR] aircraft will be added to the company's fleet in the future," it says, pointing out that the evaluation of its fleet strategy has been on hold during the current crisis.
"[Icelandair] considers the [A321LR] aircraft to be a good option to replace the 757 aircraft, particularly as it is well suited to operate in a fleet including 737 and 767 aircraft."