Icelandair believes a volcanic eruption which commenced near Reykjavik's Keflavik airport will have only a limited effect on the flag-carrier's operations.
The eruption is close to the Fagradalsfjall peak some 20km south-east of the airport, which serves as Icelandair's hub.
According to the Icelandic Met Office it began on 19 March at 20:45 at a location called Geldingadalur, in a valley 4.7km inland from the southern coast of the Reykjanes peninsula.
"There are presently no reports of ash fall, although tephra and gas emissions are to be expected," says the agency.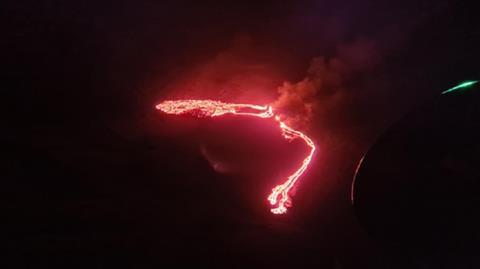 It states that the aviation colour code for the peninsula has been elevated to 'red' and restrictions have been put in place including closure of the main highway between Keflavik airport and Reykjavik.
Icelandair says that, because the eruption is lava-based, it "will not have a considerable impact" on its operations or the airport, and the small number of flights scheduled are not disrupted.
"We will continue to monitor the situation closely and make sure to keep our passengers informed if we have to make any changes to our flight schedule," the carrier says.
Reykjavik NOTAMs state that, owing to the eruption, certain airspace up to 5,000ft is restricted for "emergency and investigative flights" on behalf of civil protection authorities.
The Icelandic Transport Authority says "recurrent" flights will take place with scientists and specialists in order to assess the situation.
"These flights will be given priority over other aircraft operations," it adds.
Iceland had been the scene of a volcanic eruption in April 2010, generating an ash cloud that caused extensive airspace closures and widespread flight disruption across Europe for several days.