Icelandair Group is expecting to take delivery of three more Boeing 737 Max jets in the first half of 2021, and has reclassified part of the compensation received for the Max grounding as reduced capital expenditure on them.
The company has not disclosed the scale of the compensation settlement reached with Boeing in August to cover losses incurred from the suspension of Max operations.
Icelandair Group's latest financial statement shows that operating revenue categorised as 'other' reached $36.4 million in the third quarter – compared with last year's $6.8 million – and it says the settlement is the "main reason" for the increase.
But while the company originally expected to recognise the compensation fully as revenues in the third quarter, it says it has opted to reclassify part of the settlement as reduced capex for the three Max jets arriving in the first half of next year.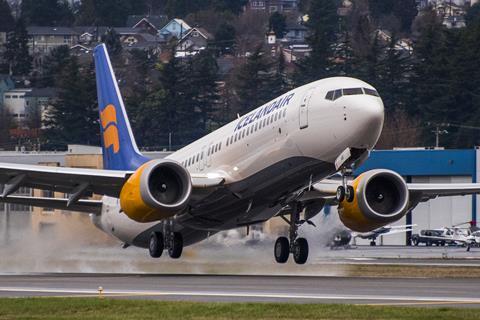 Should the Max grounding be prolonged, the sum will be recognised as revenues in 2021.
Under the compensation agreement with Boeing the carrier is reducing its Max commitment by four aircraft.
The settlement provided a lift to Icelandair Group's third-quarter revenues, and it managed to generate a net profit of $38.1 million – although this remained $23.3 million lower than last year's figure.
Icelandair Group says its operations continued to be heavily affected by the air transport crisis during the quarter, and the surplus did little to offset the nine-month performance, which resulted in net losses of nearly $293 million.
"Our efforts mitigated the impact during the summer where we were able to ramp up quickly when travel restrictions in some of our markets were eased temporarily," says chief executive Bogi Nils Bogason.
But he says the company was able to operate just 9% of its passenger flight schedule.
Icelandair Group completed a share offering in September to raise new capital and reinforce its financial defences.
"In the coming weeks, we are expecting our operations to continue to remain at minimum levels," says Bogason.
"We have minimised cash burn and strengthened the liquidity position to be able to weather the storm into 2022, if needed."