Scandinavian budget carrier Norwegian benefited from the partial reversal of an impairment loss in the second quarter, enabling it to turn in an operating profit of NKr1.36 billion ($141 million) for the period.
Norwegian generated NKr4.87 billion in revenues for the three months to 30 June, but the rise in fuel prices drove its fuel bill to NKr2.34 billion and contributed to overall expenditure of nearly NKr5.1 billion.
Although this resulted in a negative EBITDAR, the airline reinstated previously-impaired pre-delivery payments of nearly NKr2.1 billion during the quarter.
Norwegian had impaired pre-delivery payment balances by NKr4.1 billion in 2020 over uncertain recoverability of assets related to aircraft purchase agreements.
But its agreement, in the second quarter, to order 50 Boeing 737 Max 8s and take options on another 30 have led to a partial reversal of this impairment.
The NKr2.1 billion gain from the reversal enabled Norwegian to turn in an operating profit of NKr1.36 billion, and a pre-tax profit of nearly NKr1.25 billion.
This also meant its first-half pre-tax figure was positive at NKr217 million.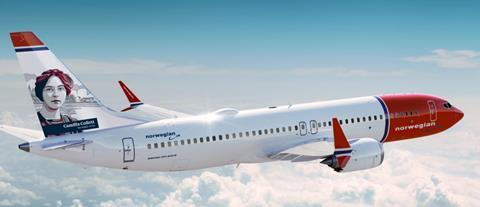 Norwegian has been increasing its current committed fleet, as it looks to address the post-pandemic resurgence of air travel.
"This quarter has demonstrated our ability to rapidly ramp-up capacity and effectively meet the strong demand for air travel," says chief executive Geir Karlsen.
"The summer programme has been well-received among customers across markets."
Over the second quarter the airline transported 5 million passengers, up from 2.2 million in the first, while average load factor increased from 76.9% to 81.2%.
Norwegian had 65 aircraft at the half-year point but aims to reach 70 by the end of the year, and increase the fleet to 85 for summer 2023.
It states that it has flexibility for the winter season with power-by-the-hour lease agreements on nearly 30% of its fleet which will allow it to "optimise" capacity and align with fluctuation in demand.
Norwegian will start taking delivery of the additional 50 737 Max jets from 2025, completing the deliveries in 2028. Its optioned aircraft would follow from 2028-30, by which point practically the entire current fleet – bar about 13 aircraft – will have been replaced.