As if playing catch-up for lost time, Airbus marked the return of the Paris air show with an opening agreement for 500 firm A320neo-family aircraft from Indian budget carrier IndiGo.
IndiGo chief Pieter Elbers says the aircraft will "bring us well into the next decade" with delivery over 2030-35. "No-one has ever [placed] an order of this magnitude," he adds, pointing out that the agreement is firm and there are "no options".
It comprises A320neo and A321neo variants, and the airline has the flexibility to take the long-range A321XLR. The final composition has yet to be decided. No engine selection has yet been made.
IndiGo already has around 300 Airbus jets, with a further 480 on order until the end of the decade. Elbers says the new order takes the carrier's backlog to nearly 1,000.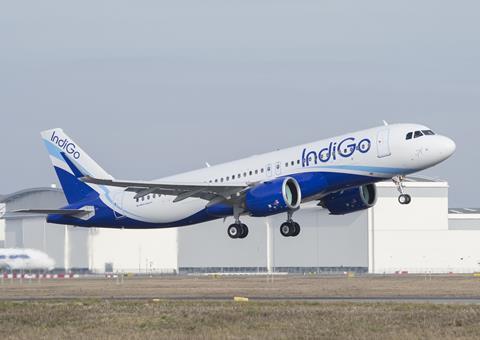 Airbus chief executive Guillaume Faury is not concerned about the ability of the airframer to meet the demand, stating that the current supply-chain problems are a "short-term challenge" compared with the timeframe of the IndiGo order.
"I don't see it as an issue," he says. "Here it is about the long term."
He adds that, while Airbus is looking to increase A320neo output to 75 aircraft per month, any notion of a further rise in production rate is "completely premature".
IndiGo's agreement has emerged at a pivotal point in Indian aviation, following a huge Air India commitment – disclosed in February – for 470 aircraft, of which Airbus is set to supply 250.
Struggling Indian low-cost carrier Go First, however, remains grounded with flights cancelled at least until 22 June. The airline is a large Airbus customer, with 128 A320neos on direct order of which 72 remain in the airframer's backlog.
Elbers insists the Indian market has "plenty of room to grow".
Airbus's newly-released global market forecast, covering the 20 years to 2042, predicts that India will, along with China, will continue to "shift aviation's centre-of-gravity towards Asia".
While the scale of domestic passenger traffic is much smaller for India than China, its forecast annual growth rate of 7.4%, from the pre-pandemic baseline of 2019, exceeds China's 5.3%.
This means the Indian domestic passenger market will rise five-fold over the period to 2042. Certain international traffic flows will also prove strong, with 5% annual growth foreseen between the Indian subcontinent and the Middle East.