Russian carrier IrAero has been cleared to restructure lease payments of more than Rb2.6 billion ($36 million) by state lessor GTLK.
IrAero signed lease agreements for Sukhoi Superjet 100s which were delivered to the airline over the course of 2016-17.
But GTLK says the air transport crisis created by the pandemic has contributed to a fall in IrAero's revenues and payment arrears.
The airline's activity has been picking up, with January-August passenger traffic nearly 40% up on last year, but still only a little more than half the figure achieved in the same eight-month span in 2019.
This is despite IrAero's passenger numbers having recovered to 93% of their 2019 level, according to official data from federal air transport regulator Rosaviatsia.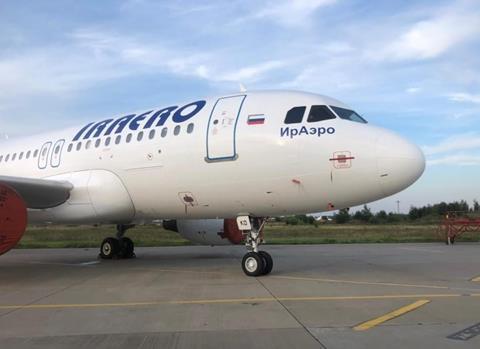 GTLK's managing director for troubled assets, Kirill Krasnov, says the support of its customers is a "priority task". He says the agreement with IrAero has been achieved through "a lot of constructive work on both sides".
IrAero has modernised its fleet with the introduction of an Airbus A319, configured with 156 seats and deployed on routes to Europe and Central Asia.
The twinjet was brought in during August.
"Demand shows that the capacity of the Superjet 100 is simply not enough for some routes," says deputy director general Sergei Krupnov.
"We plan to add another one of these aircraft to our fleet."
IrAero also uses Bombardier CRJ200 and several Antonov An-24s and An-26s. The airline is a customer for the Irkut MC-21.
GTLK says its agreement with IrAero has been part of a broader effort to restructure airlines' debts, amounting to over Rb4 billion during 2020-21. The lessor says it has worked with carriers including Yamal, Azimuth and SiLA, and is negotiating with Yakutia to settle a debt of over Rb1 billion.