Israeli flag-carrier El Al has prolonged, at least until the end of September, the furlough programme for personnel, as the country's trade union centre formally declares a dispute with the aviation industry over concerns of mass lay-offs.
El Al says it has 1,165 employees affected, adding that workers will be brought back "in line" with the activity of its flight schedule.
But the trade union centre Histadrut states that it is in conflict with El Al, as well as the other main carriers Arkia and Israir, over the "severe employment crisis" facing the industry since the onset of the pandemic. The organisation is looking to the Israeli government for assistance.
It believes the companies are planning further mass redundancies, and extend the furlough period of others, as well as changing terms of employment.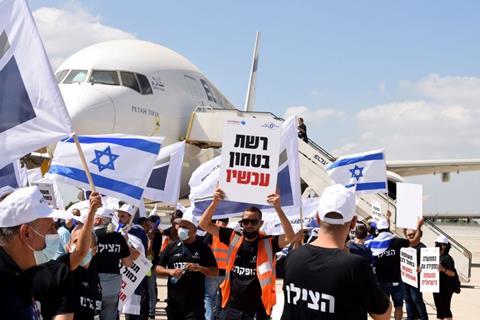 "Even today, a year-and-a-half after the outbreak, the aviation industry has not yet returned to the level of normal and regular commercial activity," says Histadrut, adding that "significant" numbers of personnel have been laid off or place on leave.
Transport workers' union chair Avi Edri says the organisation has "tried to avoid exacerbating the struggle" for the aviation industry but it "can't remain indifferent" given the signals it is receiving from airline management over the economic security of workers.
"We expected, and we still expect, the Israeli government to intervene in the crisis and stabilise the airlines, as other countries in the world have done," he adds.
Histadrut chair Arnon Bar-David says the trade centre signed "unprecedented" recovery and efficiency agreements with companies to support their financial recovery. Both El Al and Arkia have heavily reduced their workforces.
"But this does not mean that this gives way to mass lay-offs…as a quick and easy solution," says Bar-David. The organisation is also worried that jobs will be outsourced and employees' abilities will be impaired by prolonged absence from training and operations.
El Al recently posted half-year net losses of $166 million and expressed concerns that the recovery track was lagging behind the airline's expectations, pointing out the emergence of coronavirus variants.
Israir was sold at the beginning of this year to an investment company controlled by retail entrepreneurs.