Israir Group's board has approved the introduction of another pair of Airbus A320s to develop the Israeli operator's fleet.
The two aircraft will be dry-leased and arrive in 2024, according to the company, if an agreement is finalised.
Israir Group says the decision is part of a management plan to "strengthen the continued growth" of the operator.
The additional A320s will be leased for up to eight years and will bring the company's overall fleet to 11 aircraft. Eight will be directly operated by Israir, with the others wet-leased.
Israir Group says it has also authorised the recruitment of extra pilots and cabin crew to meet the operational requirements of an expanded fleet.
It states that the leisure company is engaged in a broad development strategy which includes acquiring holdings in companies and hotel real estate as well as the implementation of new digital systems for yield management, reservations and check-in.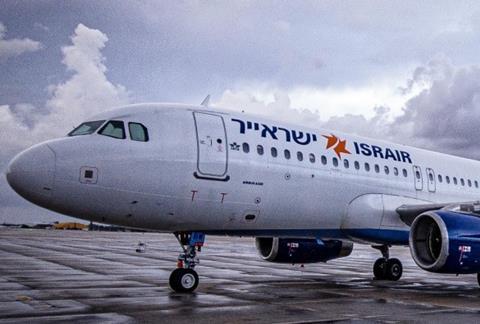 Israir Group has been holding talks to acquire the Czech carrier Smartwings, which has newly concluded another wet-lease pact with Middle Eastern operator Flydubai.
Under the agreement Flydubai is leasing four Boeing 737-800s from the Prague-based operator for the winter 2023-24 season.
They will support the Flydubai fleet – which comprises 49 737 Max jets and 30 737-800s – and provide additional capacity during busy periods.
Flydubai chief Ghaith Al Ghaith says the wet-lease is the third such agreement it has secured with the Czech airline since 2019.