Israeli leisure carrier Arkia's employees have agreed a restructuring which involves cutting about a quarter of the airline's personnel, reducing its workforce to around 400.
The agreement follows months of negotiations and includes a phased salary-reduction mechanism to be imposed across all the company's activities – although it will not affect employees paid less than 8,000 shekels ($2,300) a month.
Israeli trade union centre Histadrut has been closely involved in the talks.
"We've performed CPR on Arkia and returned it to the world of aviation," says Histadrut transport workers' union chair Avi Edri.
"There's no better news for Rosh Hashanah than opening a workplace that has been quiet for six months," he adds, referring to the Israeli new year holiday which begins on 18 September.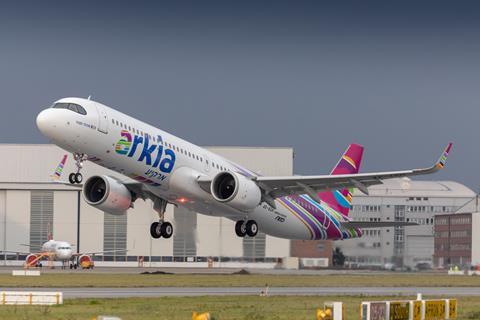 But the "lengthy dialogue", says Histadrut, has also resulted in an agreement to reduce the Arkia workforce to 400 employees.
It says, however, that the company has "survived" as a result of the discussions and that it will "gradually return to activity".
Arkia, which is backed by the Nakash family, had already reached a funding agreement with the owners to help restore the company to operations.
Chairman Gadi Tepper says the agreement, signed after "intensive" talks, will enable the airline to restart services and "open new destinations".
Arkia's workers' committee chair Aliza Blaish says the deal is a "significant step to save the company from closure" which would have resulted in the dismissal of hundreds of employees.
"Not all of our requests were met by management," she says. "But we've maintained the continuation of the company and the return of employees, gradually, from furlough – while keeping, as much as possible, their conditions.
"I believe that, from here, we're embarking on a new course which will lead Arkia to new heights."