Israeli flag-carrier El Al has restored to service the first Boeing 777-200ER to be reconfigured with an interior similar to its 787 fleet.
The initial aircraft began operating in August, the airline has disclosed. It has six 777s and plans to reconfigure the cabins of four of them.
El Al says it is refitting the aircraft to increase the number of seats and "improve the customer experience".
It says it aims to complete the reconfiguration of three other 777s by the end of 2024.
"The company is considering operating additional 777 aircraft," it adds.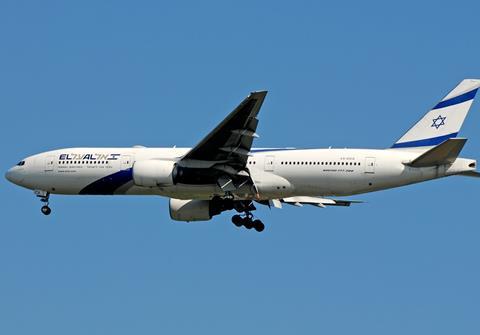 El Al has been expanding its fleet, recently taking delivery of the final 787 from its original order of 16.
It is scheduled to introduce another 787 in the second quarter of next year, and will lease another pair in the third quarter of 2025 and first quarter of 2026 – giving it 19 787s in total.
El Al has been looking to replace its narrowbody fleet, which centred on Boeing 737s, and says it is "reviewing the proposals it received" after issuing an invitation to airframers and engine manufacturers.
In its half-year briefing on 10 August the airline indicated that its current fleet of 45 aircraft would expand to 59 by the end of 2028.