Israeli leisure carrier Israir has effectively halved its operational fleet as part of its response to the air transport disruption triggered by the Israel-Gaza conflict.
The airline says it had been operating nine aircraft before the conflict began on 7 October, but has reduced this to "three or four", states chief executive Uri Sirkis.
Sirkis says the airline has returned three leased aircraft, reducing monthly expenditure by more than $2 million, and transferred another to its Cypriot-based maintenance centre in order to start immediate work on the airframe. It is also negotiating to bring forward an engine overhaul.
The maintenance activities were scheduled to take place next year, but starting them early will save operating costs, and enable the carrier to operate its fleet "at full power" when the crisis ends, adds Sirkis.
Two aircraft have been parked at Ramon airport as part of a risk-management exercise to reduce the possibility of damage from the conflict.
Sirkis states that Israir has reacted to the situation by making "far-reaching changes" to its schedule, and claims its passenger numbers have fallen by only 5% compared with October last year.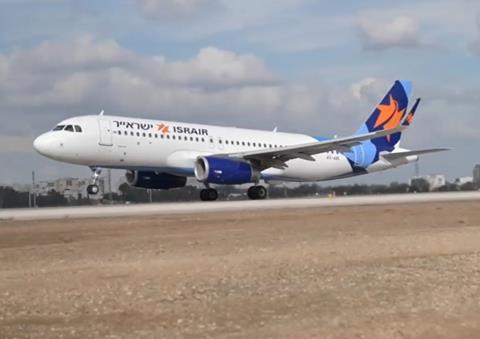 Israir has shifted from a tourism-focused network to one intended to transport people returning to, or seeking to leave, the country – carrying over 60,000 passengers on rescue flights during October, out of a total of 90,000.
The airline has also revised its activity plans for the 2024 season.
It expects to operate to around 35 destinations, six of them new, compensating for areas which have become the subject of travel warnings. Sirkis identifies Turkey as a region where Israir has experienced a "steep drop" in demand.
Israir has transported some 930,000 passengers since the beginning of 2023 and Sirkis says he is "optimistic" that it will achieve its target of 1 million for the full year.
"The strategic decision – which we made and implemented in the last two years – to deepen our activities abroad, turned out to be particularly successful at this time," he states, and adds that the carrier is not intending to lay off personnel.
Sirkis says the airline's fleet remains insured – with the government stepping in where necessary – and it is negotiating a reduction in lease rates. Israir also has permits to convert a number of passenger flights to cargo services.