Israeli leisure operator Israir Group is attributing a strong first-quarter performance to increased demand and the expansion of its Airbus fleet.
The company's revenues in the three months to 31 March – totalling $94 million – amounted to a two-thirds increase on last year's figure, and double the level of pre-crisis 2019.
It generated a pre-tax profit of $2.5 million and a net profit of $2.8 million.
Israir Group says it recorded a "sharp rise" in demand for its products, both during the quarter and into the summer season.
It says the economic environment – a strengthening of the US dollar exchange rate and a decline in disposable income – has not yet affected this demand.
Israir Group has shifted to a uniform Airbus A320 fleet, taking its fleet to six 182-seat aircraft, after divesting its 74-seat ATR 72 turboprops. The company says the increase in seat capacity has contributed to its stronger performance.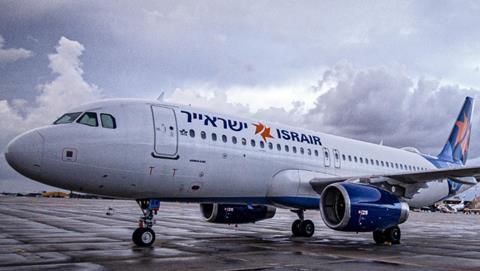 Load factor for the operator rose during the quarter, from 74% to 82%, while its artificial intelligence-driven yield-management system has helped it capitalise on increased fares.
Israir Group has acquired a 50% share in the Cypriot-based maintenance firm Bird Aviation, and says the company generated a profit of around $400,000 in the first quarter. Bird has already conducted checks on two aircraft in the Israir fleet.