Newly-launched Italian national airline ITA Airways has reached a collective labour agreement with trade unions, which the carrier says will support its strategic development including workforce growth potentially from early next year.
The carrier aims to expand in accordance with the recovery of the air transport sector and offer development opportunities for aircrew, including at least 130 new command courses for pilot training next year as ITA embarks on its fleet modernisation with new Airbus jets.
ITA says the agreement pays attention to corporate welfare, with health assistance for all ground personnel, with additional benefits for aircrew. The airline says this recognises the staff who "represent the pillar" of the company's business plan.
The agreement also introduces a variable "result bonus" for all employees, representing 15% of salary, calculated through a combination of profitability and customer satisfaction, the company says.
ITA will also implement a "progressive realignment" of wages from 2023, with a 3% rise for pilots and 1% for cabin crew.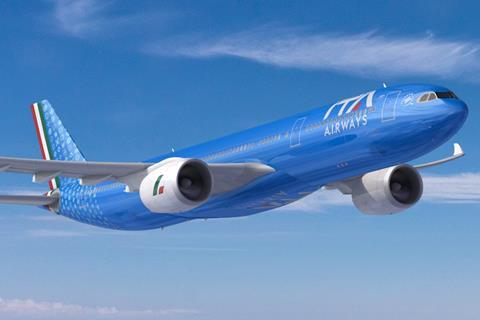 Four key Italian unions – FILT-CGIL, FIT-CISL, Uiltrasporti and UGL TA – claim that ITA started hiring aircrew and ground staff "unilaterally" in September, without the necessary regulatory protections, after the pandemic drove political will to a "compromise" between addressing employment protection and rapidly starting a project that could compete on the market.
Renewal of the national collective labour agreement, they state, must restore industrial relations to "normal".
The unions say the protocol, signed with air transport association Assaereo, forecasts the number of personnel rising to 4,000 personnel by June 2022, and provides a number of other benefits for workers.
"[These] agreements are a first significant step that improve working conditions in a context in which the workers of this company have already suffered too much," they state.
The unions insist the agreements "must constitute a turning-point" in relations between the new airline and its workers, and "provide the tools" to enable ITA's development.
"Management and shareholders must do their part by making concrete, and improving, the industrial plan," they state.
FIT-CISL secretary general Salvatore Pellecchia says the pact between ITA and Assaereo marks a "discontinuity with the past", but adds: "As far as we are concerned, the agreements signed today are a point of departure and not of arrival."
He says the union will turn to supporting employees in the maintenance and ground-handling divisions.
FILT-CGIL says the agreement is "important" and the result of "resistance and determination of workers" during a "very bitter dispute" lasting for 52 days.
ITA executive president Alfredo Altavilla says the agreement will "ensure competitiveness", through confirmation of the business plan's profitability objectives – including an aim for operational break-even in the second quarter of 2023 – underpinned by the result bonus initiative.