Italian carrier ITA Airways has reached provisional agreements for ground-handling and maintenance, although final deals will depend on predecessor Alitalia's administrators.
ITA says tenders to acquire the handling and maintenance businesses of Alitalia expire on 14 March.
It has signed a preliminary agreement with Swissport International covering handling services.
If Swissport is successful in the tender then a long-term contract for handling at Rome Fiumicino and Milan Linate will be drawn up.
The carrier has signed a similar tentative agreement with maintenance firm Atitech for aircraft overhaul activities which would translate into a formal tie-up if Atitech is granted the Alitalia maintenance business unit.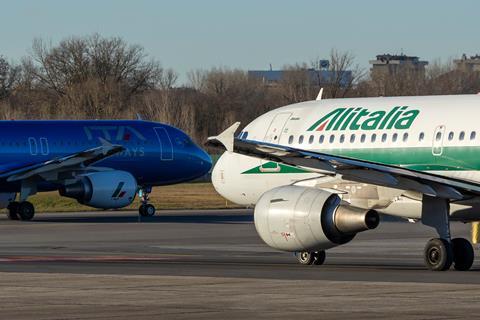 ITA says that, should Swissport or Atitech fail to be awarded the tenders by Alitalia's extraordinary administrators, then the respective provisional agreements will be terminated.
In such an event ITA says it would take on the ground-handling activity internally.
"ITA Airways intends to achieve the economic and service level objectives without the need to acquire any stake in the company that will be awarded the [handling] tender," it adds.
For the maintenance activity ITA would continue with the service contract already signed with Alitalia's administrators until its expiry in October.