Kuwaiti budget carrier Jazeera Airways is expecting to have around 35 aircraft by 2025, with a number of them potentially allocated to its proposed Saudi Arabian joint venture.
Speaking during a briefing earlier this month, chief executive Rohit Ramachandran referred to 'Jazeera Saudi' – a start-up in which the Kuwaiti airline will hold a 49% share.
The new carrier will be based in Dammam, Jazeera's first hub outside of Kuwait.
"We see this as a solid stand-alone airline that will gradually fly on its own, given the promising prospects of Saudi Arabia," says Ramachandran.
But he adds: "We still have to go through a prolonged legal and structural process with the Saudi regulators and other official entities."
As a result, he is giving few additional details about the Jazeera Saudi plan.
He says, however, that Jazeera Airways is aiming to reach 24 aircraft by the end of this year to "capture increasing demand" – a fleet size which it had not originally expected until the middle of the decade.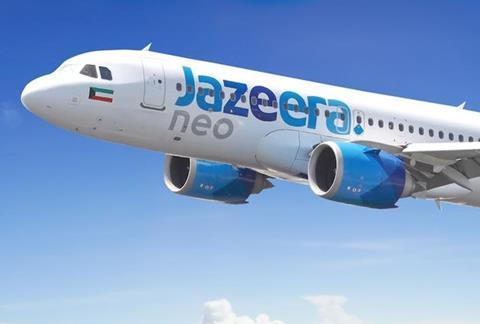 The carrier currently has 20 Airbus A320-family jets including 11 A320neos.
While Ramachandran insists that he does not measure the carrier's success by "the number of aeroplanes", he says he expects another 13 to arrive over the course of the next 15-18 months.
"[This] will take care of the requirement of both Jazeera and the little taster…about Jazeera Saudi," he says.
"By 2025, we will be in the region of approximately 35 aircraft for the group. But I say this expecting to be proven wrong again and perhaps that number is too conservative."
Ramachandran states that Jazeera's order backlog with Airbus, delivery of which starts in 2026, is "already looking inadequate" for the airline's requirements in 2028-30.
Jazeera has been picking up A320-family jets on short-term lease in the meantime, and has recently agreed to take a pair through Irish lessor AerCap.