Kuwaiti budget carrier Jazeera Airways' net profit halved during the third quarter, to just under KD7 million ($22.7 million).
The carrier's revenues dipped slightly to KD61 million despite a 28% rise in passenger numbers to 1.38 million for the three months to 30 September.
Jazeera expanded its fleet with the introduction of two additional aircraft, taking its total to 22.
Over the third quarter the airline also extended its network to 64 destinations with new services from Kuwait to Tehran and Islamabad.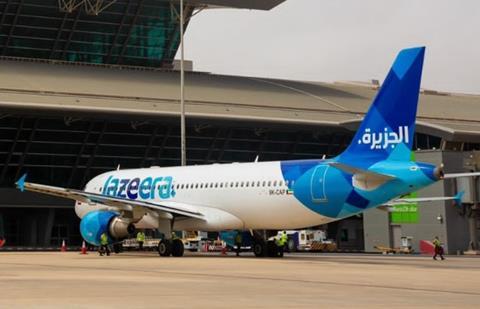 Chairman Marwan Boodai says the airline has been subject to a "tough regulatory, geopolitical and regional landscape".
"While depressed yields due to overcapacity remain a challenge, we are well placed to leverage our low cost-base to maintain margins and create value for our shareholders," he says.
Jazeera Airways managed to generate net profit of KD13.3 million for the first nine months of the year – down from the previous KD20.8 million – on a near-13% rise in revenues to KD159 million.
It adds that the outlook for the remainder of the year "remains positive" despite the yield pressure.