UK budget carrier Jet2's executive chair has issued a scathing opinion over the readiness of its base airports to deal with recovering passenger demand, describing them as being "woefully ill-prepared".
Philip Meeson says "most" of the airline's 10 base airports in the UK have been "poorly resourced" for the volume of customers they could reasonably expect, while ground-handlers have shown an "inexcusable" inability to cope and demonstrated "often atrocious" customer service.
He made the remarks as Jet2 unveiled preliminary full-year financial figures to 31 March including a group operating loss of £324 million ($389 million).
Meeson blames suppliers' "failure to adequately plan" for the post-pandemic ramp-up of operations – pointing out that this has led to long security queues, congestion in baggage-handling zones, and lack of catering, as well as reduced provision of services to passengers with reduced mobility.
"[These weaknesses] have each contributed to a very much poorer experience at the start and finish of our customers' holidays than they were entitled to expect," he says.
"This difficult return to normal operations has occurred simply because of the lack of planning, preparedness and unwillingness to invest by many airports and associated suppliers."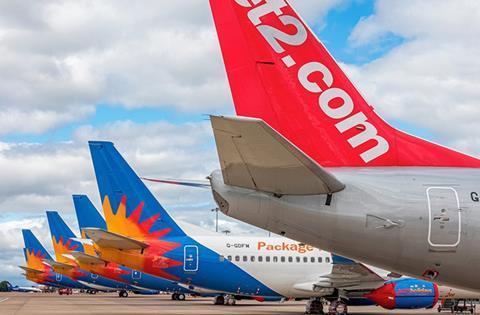 Jet2 says that, although it self-handles at several airports, its operations have been affected by the broader disruption and it has incurred additional costs to recover from the impact.
The company also states that it is rewarding its own personnel with pay bonuses for working to support customers and colleagues.
"Overall demand for our leisure travel products has continued to strengthen, but with customers booking a little later than normal," says Jet2.
On-sale leisure travel seat capacity for summer is around 14% higher than the pre-crisis summer 2019 season. Package holiday bookings "remain encouraging", it adds, with "robust" pricing.
Liquidity improved to more than £2.2 billion by the year-end. Jet2 has demonstrated its optimism with an agreement for up to 75 Airbus A321neo jets, of which 60 have translated into firm orders with deliveries due over 2023-29.