UK leisure carrier Jet2 has hiked its full-year profit expectation for the year just closed, while expressing optimism over the forward booking trend for the current summer season.
Jet2 is forecasting a group profit of £387-392 million ($481-487 million) – before taxation and foreign-exchange revaluation – for the year to 31 March, up from the £370-385 million range disclosed in January.
The company says that, despite fuel expenditure and other inflationary cost pressures, pricing of its flight-only and package holidays "remains strong" and per-passenger margins are "encouraging".
While Jet2's seat capacity for summer 2023 is 7.2% higher than last year, its summer load factor is slightly ahead of that for the previous season.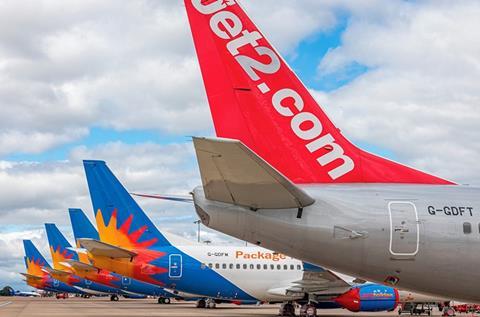 It says it is "pleased with the current position" but is not giving full-year profit guidance for 2023-24 because it still has over 40% of the summer season – and most of the winter season – yet to sell, and the possibility of air traffic control disruption over the year remains.
Jet2 is aiming to mitigate the risk of ground-handling problems – such as those experienced by several carriers at a number of airports last year – by bringing handling under its own control.
It has opted for self-handling at Bristol and Newcastle airports, which means it is no longer reliant on third-party handling at seven of its 10 UK bases.
Jet2 is undergoing a fleet expansion and modernisation, recently taking delivery of its first Airbus A321neo.
It has registered the 232-seat aircraft as G-SUNB, painting it in the colours of its Jet2 Holidays arm, and intends to put it into service in early May from Manchester.