Leisure operator Jet2 was the only top five UK-based airline to carry more passengers in 2022 than it did prior to the pandemic in 2019, according to data from the country's Civil Aviation Authority (CAA).
Passenger numbers at the UK's two biggest airlines, EasyJet and British Airways, were down 36% and 31%, respectively, in 2022, compared with 2019.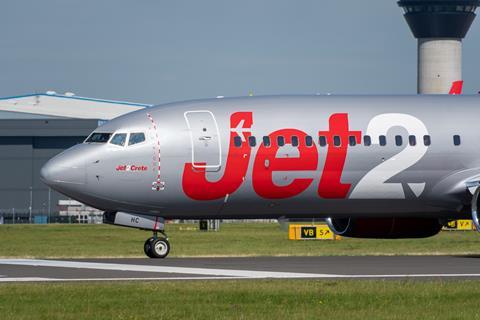 However, Jet2, the country's third largest carrier, saw its passenger numbers increase by 8% in the same comparison period, the CAA's data shows.
Jet2 carried 15.5 million passengers last year, up from 14.3 million in 2019, according to the CAA data. EasyJet UK's passenger numbers fell from 51.8 million in 2019 to 33.1 million last year, while the number of passengers carried by BA dropped to 30.7 million in 2022 from 44.4 million in 2019.
The data shows that Virgin Atlantic's passenger numbers declined by one quarter to 4.1 million in 2022 versus 2019.
In total, UK-based airlines operated just over 812,000 flights in 2022, representing 68% of the number of flights operated in pre-pandemic 2019. Of that total, EasyJet UK operated 230,000 flights and BA 208,000 – both below 2019 levels – while Jet2 conducted 91,000 flights, up from 82,000 in 2019.
Separate data from OAG shows that, globally, the most heavily used aircraft in 2022 was the Airbus A320 and EasyJet was the heaviest user of that aircraft type.
The A320 was responsible for 562 billion available seat kilometres (ASKs) in 2022 – 38 billion of which were attributable to EasyJet. The second most heavily used aircraft type in the world last year, according to OAG data, was the Boeing 737-800, which produced 333 billion ASKs.