UK leisure operator Jet2 has turned in a full-year operating profit of £394 million ($500 million) and a net profit of £291 million, far exceeding its pre-crisis performance.
Jet2 says the "significantly improved" financial achievements follow a "rebound in consumer confidence to travel".
It adds that the operating profit was strong despite last summer's substantial disruption to air transport services which led to delay and compensation costs of more than £50 million. The performance of its in-flight retail operation was also a casualty of supply-chain snags early last summer.
Jet2 points out that the proportion of package-holiday customers – which represent higher margins – rose to nearly two-thirds of the 16.2 million passengers transported in the year to 31 March 2023.
The carrier recorded an average load factor of 90.5%, close to the pre-crisis level of 92.2%, even though it hiked seat capacity 13% in 2022-23 compared with 2019-20.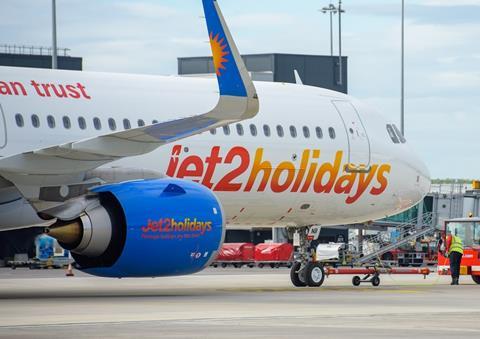 It is also offering 7.5% more seat capacity for summer this year, compared with last summer. While average load factor is slightly lower, the carrier states that the proportion of package-holiday customers, at 73%, is higher.
"Despite the group facing various input cost pressures, pricing to date for both our package holidays and flight-only products has been robust and consequently margins per-booked passenger satisfactory," the company adds.
"We continue to believe that the end-to-end package holiday is a resilient and popular product, particularly during difficult economic times."
But it is reluctant to provide "definitive guidance" on the 2023-24 financial year, given that the macroeconomic environment is evolving "quickly" and the company has yet to sell the majority of its winter-season capacity.
Jet2 has started introducing Airbus A321neo jets as part of its fleet renewal, and its development plans also include establishing another base in the UK – at Liverpool airport – from March next year, bringing its total to 11 in the country.