Kazakhstan's government has formally opened invitations to potential investors for the privatisation of regional operator Qazaq Air.
Qazaq Air was set up by the government in 2015 and uses a fleet of five De Havilland Dash 8-400 turboprops.
It is owned by the Kazakh national wealth fund Samruk-Kazyna.
"Attracting a private investor is aimed at creating new opportunities for the development of the Kazakhstan air transportation market, including expanding the geography of Qazaq Air flights, increasing the fleet and introducing innovative solutions," says the carrier.
Samruk-Kazyna has issued a notification for the sale of 49-100% of Qazaq Air shares, through a two-stage tender process.
The first stage involves a review of preliminary proposals and confirmation of qualification requirements.
Qualified prospective bidders will be approved to participate in the second stage, which will cover submission of formal tender proposals from which the successful investor will be selected.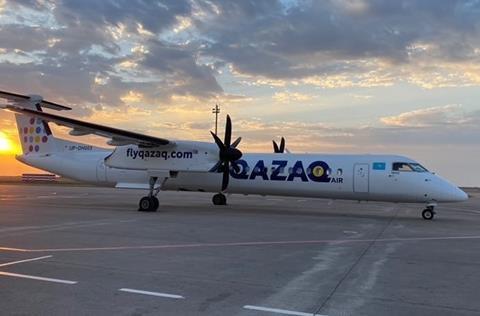 The government has fixed a minimum price for the entire share capital of 10.2 billion tenge ($22 million), and refers to a security deposit of 173.4 million tenge.
Initial applications must be submitted by 28 September and the results of the tender for the second stage will be determined on 15 December.
The tender documentation says the investor must ensure preservation of the activity profile in civil aviation for at least five years, as well as the implementation of scheduled passenger routes for three years.
At least two-thirds of the number of full-time personnel must also be retained for five years, and Samruk-Kazyna has set out a schedule for repayment of two 2019 loans granted to the airline.
The documentation also says the successful investor must implement a strategic plan for the carrier including its fleet development.
Astana-based Qazaq Air says it turned in an operating profit for the full year 2022, and states that the Kazakh market is demonstrating "record growth" in passenger traffic.
It is a member of IATA and has certified line service stations and an aviation training centre.