Kenya Airways estimates that a strike by its pilots set to start on 5 November will cost around KSh300 million ($2.5 million) a day.
The airline has condemned the industrial action by the Kenya Airline Pilots Association, describing it as "unlawful".
"This unfortunate action may affect both our passengers, who may not travel, and our cargo customers, whose exports will be affected," says the carrier.
"The intended unlawful industrial action negates the strides [Kenya Airways] has made this year in improving its financial position following the Covid pandemic that affected the economy."
It says it is "willing and ready" to hold discussions with the pilots' association in order to resolve the situation and find "practical and lasting solutions".
"We cannot overstate the severe economic impact of this action on different sectors and the entire eco-system reliant on [us]," it adds.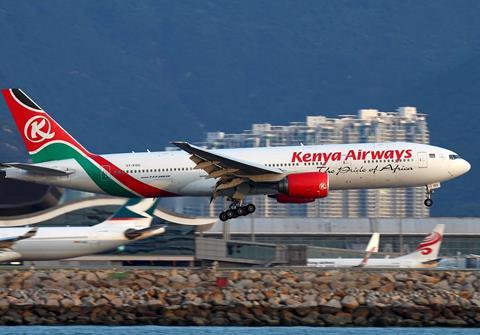 Kenya Airways has been facing financial hardship, and the Kenyan government has been supporting the carrier.
The airline has encountered disquiet over the suspension of an employee provident fund, but says it cannot afford to pay deferred salaries and the fund at the same time.
It has indicated that it will reinstate the fund in the middle of next year.
But it points out that the company needs to become "self-sustaining", particularly given the pressure on government financing from the severe drought affecting the country.
Kenya Airways has been cutting costs by renegotiating leases and reducing its fleet size, as it seeks to bring down expenditure by 10% by the end of next year in comparison with pre-crisis figures.
It believes that none of the concerns put forward by the pilots' association warrants a strike, and insists that collective agreements must take into account the need to restructure the carrier.