Dutch carrier KLM has described as "hopeless" the continuing restrictive operational measures at its Amsterdam Schiphol base, insisting they are damaging the reputation of airlines at the hub.
Schiphol's operator is capping the number of departing passengers for the winter season, and acknowledges that airlines are "not happy about it".
KLM claims airlines have been asked to reduce the number of boarding passengers by up to 22%, compared with a figure of 18% for the summer season.
The airport operator says it will review the situation towards the end of this year, and determine whether it could increase passenger numbers from the end of January 2023.
"Schiphol has made this choice to provide travellers a reliable travel experience, and predictability and stability for airlines," it adds.
While the company is "working hard" to improve security capacity, it says this is a "daunting task" in the current labour market and it needs to be "realistic".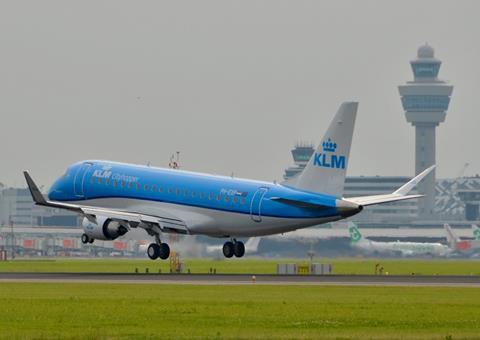 KLM says the situation is "simply unacceptable", with chief executive Marjan Rintel stating that it has "demanded too much for too long from our customers and our colleagues".
She adds that, while the airline has previously stated that the restriction of passenger numbers is not a long-term solution, "that seems to be where we are now headed".
KLM estimates that it has incurred over €100 million in damages as a result of the issue.
It says it has no choice but to restrict ticket sales. "This will hopefully ensure that we can minimise further cancellations for customers and, at the same time, remain within the boundaries Schiphol has set to ensure operational safety at the airport."