KLM has urged pilot and cabin crew representatives to join other unions in committing to labour contributions, in order to secure a €3.4 billion ($4 billion) state-backed loan.
The Dutch carrier says the cockpit union VNV has not signed a commitment clause, while the FNV union – representing cabin and ground workers – is still considering the situation.
Under the conditions of the loan, all KLM employees must make a labour contribution during the loan term.
Negotiations have been conducted with various cockpit, cabin and ground unions about making this necessary contribution. Outline agreements resulting from these talks were included in a KLM restructuring plan submitted on 1 October, giving "concrete form" to these contributions, says the airline.
But the outline agreements date to 2022 and the minister of finance has stressed to the airline that a more explicit agreement is necessary, running for the full loan term – expected to run to 2025.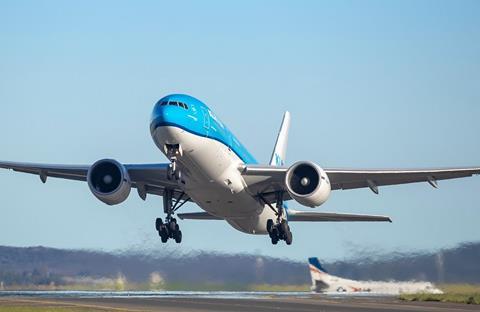 KLM has spent October working to reach detailed agreements with the unions. It says that, in order to avoid repeating all the negotiations, it has sought to include a commitment clause to maintain the labour contribution and meet the finance ministry's requirements.
The airline says five unions have signed the commitment but, without the other representatives' agreements, it "does not meet" the conditions for the ministry's financial package.
"Without this loan, KLM will not get through this difficult time," says KLM chief Pieter Elbers. "This makes this impasse extremely worrying."
It has informed the finance minister of the situation. The airline says the failure of VNV, in particular, to sign comes despite an "urgent appeal" the previous day to unions.
Elbers acknowledges that the carrier has "asked a lot from all parties", by "abandoning" normal negotiations and collective labour agreement periods.
"These are unprecedented times that also require unprecedented and unusual steps and approaches," he says.
"It is all the more regrettable that it has not been possible today to get all the unions to sign the 'commitment clause' by the end of October."
Elbers describes the abstention as "regrettable", adding: "I can only call once again on the pilots' union VNV to take this final step and to fulfil its commitment by signing this clause – in the interests of its members, all KLM employees and the future of our company."