Israeli investor Knafaim Holdings is expecting to concentrate initially on services to Mediterranean destinations from Israel and Cyprus, after completing its acquisition of a 49.9% shareholding in Tus Airways.
Its Global Knafaim Leasing arm is looking at the possibility of leasing "one or two" Airbus A330s to the carrier following its investment, having signed the agreement on 13 September.
Part of the company's aircraft leasing portfolio includes an A330-300 and A330-200 for which it has been seeking new lessors.
The company is paying $5 million out of a total $9 million investment in Tus, with the current Tus shareholder – US entrepreneur Kenneth Woolley – contributing the balance.
Under the agreement each of the shareholders will be entitled to three members on the Tus board of directors.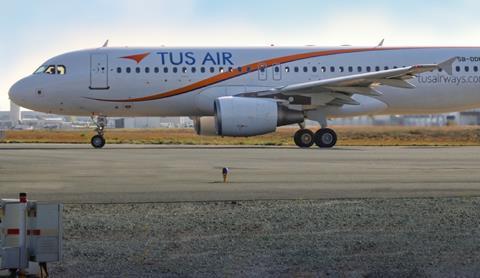 Global Knafaim says the decision to invest in Tus "represents a shift" in the company's previous business focus on aircraft leasing.
It says the plans for Mediterranean services are part of an updated business strategy for Tus, which received a pair of Airbus A320s with which to restore commercial activities in July.
Global Knafaim says Tus will "open an option" for the carrier to operate aircraft which remain unleased by the lessor.
Tus turned in a loss of €1.39 million ($1.62 million) for the first half of 2021. Global Knafaim had stated that, upon completion of the transaction, Tus would have positive equity and would not have external debts other than liabilities from the normal course of business.
Global Knafaim adds that it anticipates a need for "additional investment" as part of the development plan, as the business environment changes.