Russian carrier KrasAvia has started introducing ATR 72-500s to replace older Soviet types, as it awaits the arrival of new Ilyushin Il-114-300s.
Krasnoyarsk-based KrasAvia has taken two ATRs, the latest arriving at its Krasnoyarsk base on 14 November.
It says the aircraft have been acquired with the support of the territorial administration.
They have been placed on the Russian civil aircraft register, as RA-67610 and RA-67611. Both were built in 2010 and were formerly in service with Swedish carrier BRA.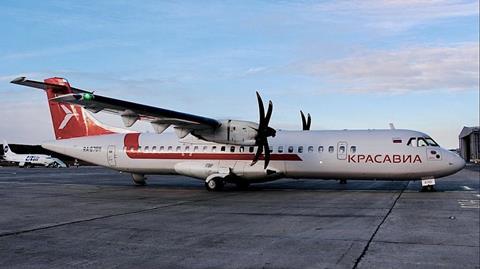 KrasAvia says they will replace Antonov An-24 and An-26 turboprops, describing the introduction of the ATRs as a "necessary intermediate step" given the "absence" of the Russian-built Il-114-300 which is yet to be certified.
"We are not stopping the renovation project, despite the pandemic crisis," insists KrasAvia general director Andrei Egorov.
The airline says the ATRs will enable a "transition from old to new", offering a new level of comfort to passengers – including hot meals, which was "technically impossible" on older types.
Swedish-based Taby Air Maintenance has prepared the aircraft for delivery, carrying out an overhaul and refurbishment of the aircraft having expanded its service portfolio to ATR 72s earlier this year.
"Selecting us to prepare [KrasAvia's] newly-acquired ATRs is a significant achievement, and a confirmation that the decision to expand [Taby] into the ATR family was right," says the company's managing director Par Gulle.
KrasAvia's fleet of more than 50 aircraft includes Yakovlev Yak-42 trijets plus the Czech-built Let L-410, as well as multiple helicopters.