Russian operator KrasAvia is to become one of the initial customers of the proposed UZGA TVRS-44 turboprop with a provisional agreement for 20 aircraft.
Under the agreement the carrier would take delivery of the twin-engined TVRS-44s – also known as the 'Ladoga' – over the course of 2026-30, through financial leases.
KrasAvia says it will co-operate with UZGA in testing a third prototype of the aircraft in order to assess its performance in Siberian and Arctic conditions.
"Controlled operation will speed up the completion of flight certification tests and will contribute to the successful commissioning of serial [production]," says UZGA acting general director Sergei Fedorov.
The 40- to 50-seat TVRS-44 is designed to replace obsolete Antonov An-24s.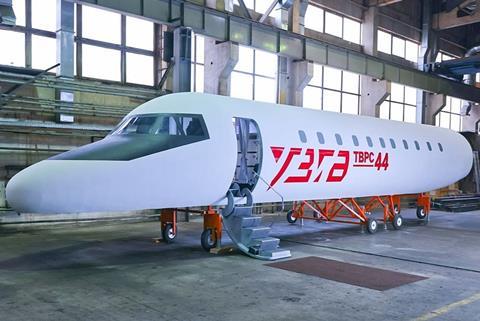 KrasAvia general director Andrei Egorov says the Krasnoyarsk-based airline cannot rely on access to imported foreign aircraft and is "eager" to test new domestically-built airframes.
"The Ladoga is currently the only alternative regional airliner," he adds.
KrasAvia aims to sign a further agreement by June 2024 covering the main terms of the supply transaction, including the delivery schedule, manufacturer guarantees, training, and aircraft support.
UZGA expects the aircraft will be delivered with a convertible passenger and cargo configuration, allowing the operator to switch from one to the other.
As part of the co-operation, KrasAvia will assist with establishing an aftersales and service centre at Krasnoyarsk airport, which will also feature aviation training facilities.