Middle Eastern carrier Emirates is suspending most of its passenger operations from 25 March, but intends to continue freight services.
Emirates has the world's largest Airbus A380 and Boeing 777 fleets, and has been trying to maintain passenger flights for as long as it could, in order to ease passengers' efforts to return home.
But increasing restrictions – including the 19 March suspension of all entry visas to the United Arab Emirates – have forced the carrier to cut back its operation substantially.
"We find ourselves in a situation where we cannot viably operate [certain] passenger services until countries re-open their borders, and travel confidence returns," says Emirates Group chief executive Sheikh Ahmed bin Saeed Al Maktoum.
It will continue to operate passenger flights to a limited number of countries as long as borders remain open and demand continues.
Cargo services, however, remain "busy", says Al Maktoum. The carrier's SkyCargo fleet of 777 freighters will continue operating to ensure transport of essential goods.
President Tim Clark and the head of ground-handling firm Dnata, Gary Chapman, will take no basic salary for the next three months. The majority of employees will also have a temporary salary reduction of 25-50% over the same period, while junior employees will be exempt.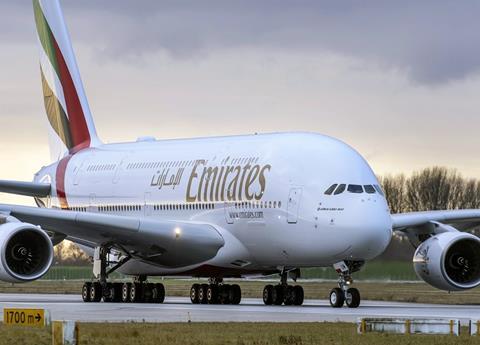 Dnata has cut back its operations, shutting some of its international offices, as flight activity falls.
Emirates Group's measures to cut costs have echoed those of several other operators affected by the coronavirus outbreak, including postponing discretionary expenditure, freezing recruitment, and negotiating with suppliers.
Al Maktoum says Emirates Group had been "doing well" against its financial year targets, but that the outbreak "has brought all that to a sudden and painful halt over the past six weeks".
He stresses, however, that the company has a strong balance sheet and "substantial" cash liquidity. "We can, and will, with appropriate and timely action, survive through a prolonged period of reduced flight schedules," he states.