South American operator LATAM Group is to take its fleet of converted Boeing 767-300ER freighters from 11 to 21 over the next two years, after enhancing its cargo expansion plan.
LATAM had originally intended to take four Boeing Converted Freighter aircraft but placed options for another four, all of which have since been exercised.
It has decided to add another two aircraft, taking the expansion to 10 and bringing the fleet to 21 by 2023.
"Once completed, the group's freighter capacity will have almost doubled in size while the average age of the fleet will have dropped from 17 to 14 years," it says.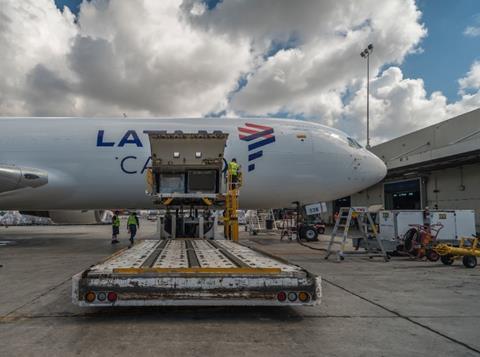 To address immediate freight demands three of the 767-300ERs awaiting formal conversion are being transformed into hybrid cargo aircraft by removing their seats. Two have already been put into operation and a third will be available by the end of June.
LATAM will introduce the first of the 10 fully-modified aircraft in December this year, one of four to be added in 2021-22, while the remaining six will be brought in over 2022-23.
"The decision to expand our fleet is based on the attractive growth opportunities available, recent efficiency improvements and flexibility that the [767 freighter] offers," says LATAM Cargo chief Andres Bianchi.
LATAM Cargo uses 11 of the type across its divisions in Chile, Brazil and Colombia.
Bianchi says the addition of another 10 aircraft will allow the cargo subsidiaries to support growth through "increased and improved connectivity" and position the group as the "main freight operator" in the region.
LATAM says the first eight of the extra aircraft will be allocated to markets "critical for key customer segments", with the aim of reinforcing connections between North and South America – notably for the flower-export market from Colombia and Ecuador as well as transport of Chilean salmon.
"Capacity to and from Brazil will also go up as we add routes from North America and Europe, boosting both the export and import markets," says LATAM Cargo network director Kamal Hadad.
Hadad says the additional pair of converted aircraft could be used either to modernise the fleet or commence new projects. "The group still has time to make the relevant decisions," he says.